Description
This creamy potato gratin with tangy goat's cheese pairs well with roasted pork, chicken, and any grilled or roasted beef dish.
---
4

pounds of Yukon gold potatoes, scrubbed

1 pint

of heavy cream
 4 ounces of firm fresh goat's cheese

1

bunch of fresh thyme, picked, gently chopped, stems reserved

3

cloves of garlic, peeled and smashed

2 tablespoons

of unsalted butter

3/4 cup

Reggiano parmesan cheese, grated
---
Instructions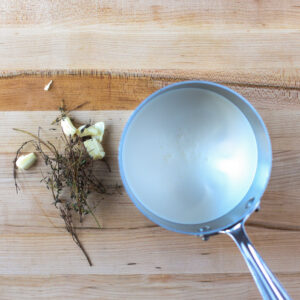 1. preheat oven to 435 F. In a small saucepot, add all the cream except a 1/2 cup, the thyme stems, and the crushed garlic.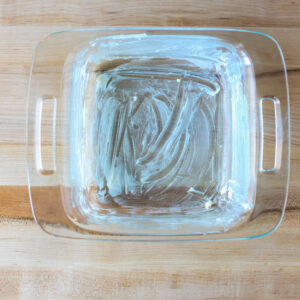 2. Butter an 8×8 (2-quart) baking dish completely.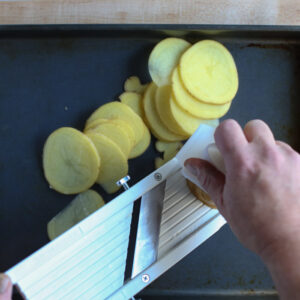 3. Slice the potatoes with a mandoline a 1/4 inch thick over a cookie sheet. Please keep it clean!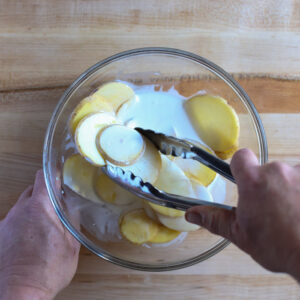 4. Place the sliced potatoes in a bowl and toss with the remaining 1/2 cup of cream. This will prevent them from turning brown through oxidization. 
5. Layering the potatoes by shingling them in a single layer. Sprinkle salt a few grinds of pepper, goat's cheese, thyme, and parmesan. Keep the cream that's leftover for step 7.  Keep a kitchen towel handy as your fingers will become coated with all of these ingredients!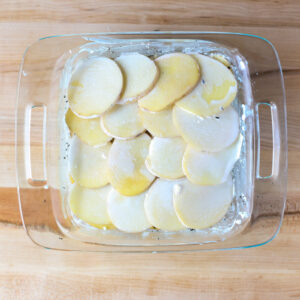 6. Make 4 layers. Keep the top layer plain.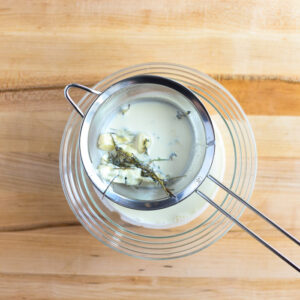 7. Strain out the thyme and garlic in the cream, and gently pour over the potatoes. Press down lightly. If you need more cream, use the leftover from the raw potatoes.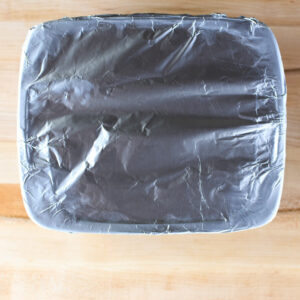 8. Cover tightly with foil. Make sure the foil does not touch the potatoes. If it does, place a piece of wax paper between the potatoes and foil. Bake for 20 minutes at 425. Lower the heat to 325 F and cook for additional 35 minutes. Remove from the oven. Lift the foil without tearing and pierce the center with a knife. If the knife goes all the way through cleanly, you are ready for the next step. If it still has some bite, re-cover and cook for 10 minutes more.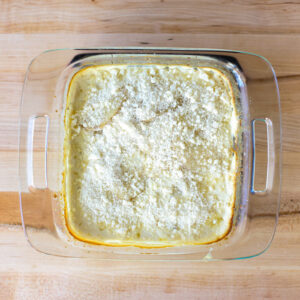 9.  Put the oven on broil-high. Remove the foil. You can tear it off as you will not need it anymore! Generously cover the top parmesan cheese. Broil for 5 minutes, or until the top is golden brown.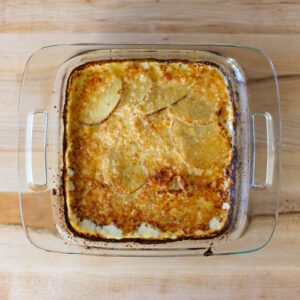 10. Remove the gratin. This is very important: let the gratin stand for 30 minutes before you cut it. Enjoy!
Notes
Make sure to use a firm goat's cheese. This one is great!
Since this gratin has cream and goat's cheese, it needs to set up by cooling down. This is not a side dish that needs to be served piping hot. I personally let it sit for an hour on a cooling rack before I serve it. Just warm lets the flavors come through as well.
Keywords: potato gratin, goat cheese, side for roasted meat, creamy