For some reason, Hungarian goulash has a bad rap. I have to admit, when I was a kid, the word goulash made me run away from my sweet grandmother in terror like she was an ax-wielding maniac. In my mind, goulash was a mixture of lima beans, liver, and that awful-tasting medicine I'd have to drink when I got strep.
How I came to love Hungarian goulash
It wasn't until I was many years into my culinary career that I started making goulash after a regular guest's request while I was working in Manhattan at 825 5th Avenue. The recipe I followed made a thick stew, which was mostly beef, onions, and paprika. I served it with buttered egg noodles. You can find this dish in a lot of diners in Manhattan. I thought it was an excellent alternative to beef stew because I enjoyed the sweetness the paprika brought to the dish. Plus, who doesn't love buttered egg noodles?
In 2019, I read an article in Saveur that changed everything about goulash for me. You see, I am a history buff and Sarah Copeland wrote, "The Key to Mastering Goulash, the World's Most Favorite Stew" which delved into the intriguing background of the dish. That article blew my mind.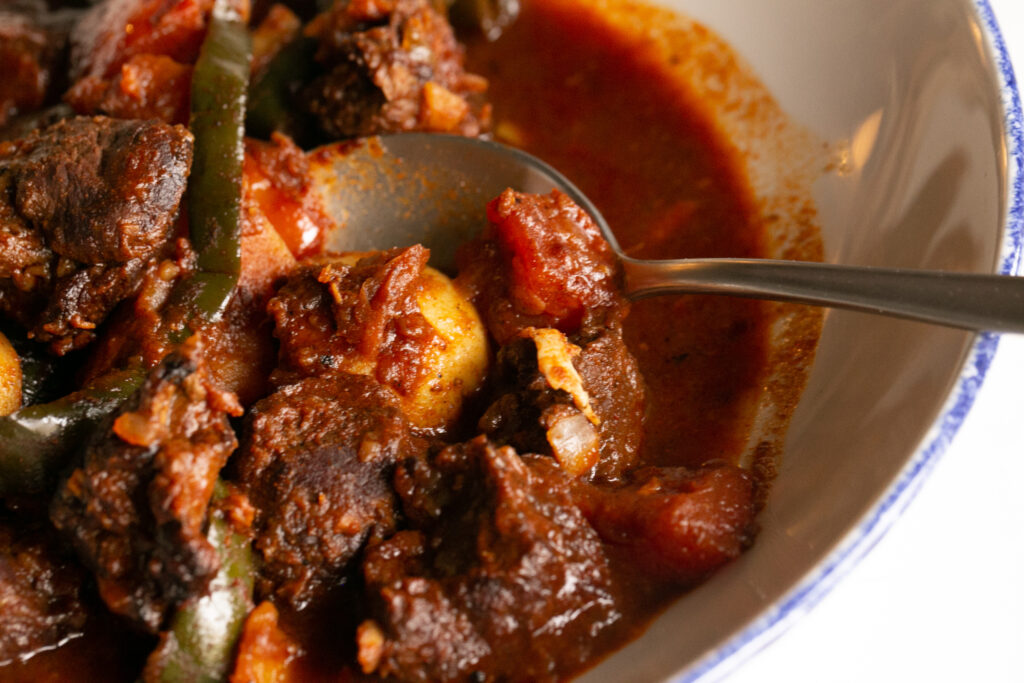 The History
I learned that the Magyar people settled along the Danube River over 1,100 years ago, coming from Russia's Ural Mountains with their cattle and sheep. They were invaded and conquered many times, but their culture remained intact mainly through their food (goulash) and music (see Gregorian Chants and the first known use of the whistle!).
What I found out about goulash was that the only two elements that I had right were the use of beef and paprika.
I also learned that goulash is actually spelled gulyάás and pronounced GOO-yash, not GOUL-ash. That simple switch in pronunciation helped diminish some of my deeply-ingrained childhood fears of the imaginary monster chasing me with that hideous concoction.
Interestingly, gulyás was also the name of those long-ago nomadic herdsmen who would sell off their fat cattle off and keep the leaner ones. The herdsman would kill, cook, and dry their meat with spices. The dried meat would be stored in sacks made from the stomach lining of the cattle. When they were out in the wild, all the herdsmen would need to do to eat was to add water and simmer.
The nomadic travels of this dish helped plant it all over eastern Europe. As its popularity grew, other cultures came into play with food staples brought back from explored lands such as the Americas. One of these ingredients was sweet peppers. These peppers were widely accepted by eastern European culture. They were commonly dried and ground into a powder, which we know today as paprika. Paprika was added to goulash, giving it an even warmer, more comforting quality, as well as the reddish color we see today.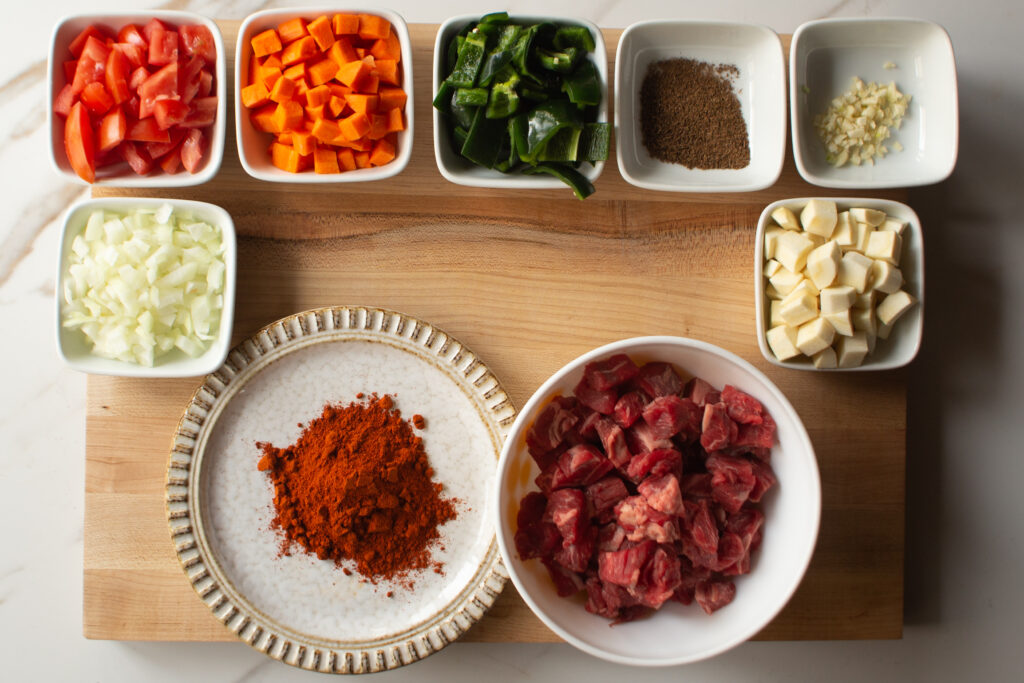 The ingredients
This Hungarian goulash recipe uses all the ingredients that the original Maygar used. It also incorporates some modern additions that have become commonplace over time in European culture and through the migration of Hungarians coming to America over the last 150 years.
Aromatics
The essential ingredient in this dish is the paprika. Make sure to get Sweet Hungarian Paprika not smoked. You can find it in any grocery store, but spice sections on Amazon or in higher-end grocery stores will also have some brands that come from Hungary.
Caraway and onions are the other aromatic ingredients that have a long history in this dish, according to Copeland. The caraway comes in seed form, so we will grind it into a powder before adding it.
Beef
My first choice is to use a chuck roast. It is well-suited for cooking over time because it has enough connective tissue to stay intact during this somewhat lengthy (1 hour, 45 minutes) cooking process. You can also use a shoulder or eye roast.
Other additions
Modern times brought modern ingredients to this ancient dish, mainly the inclusion of different vegetables and starch.
In this version, we will add new potatoes, fresh pasilla peppers, and tomatoes. These ingredients complement the old-school recipe well by adding body and some acidity to the goulash.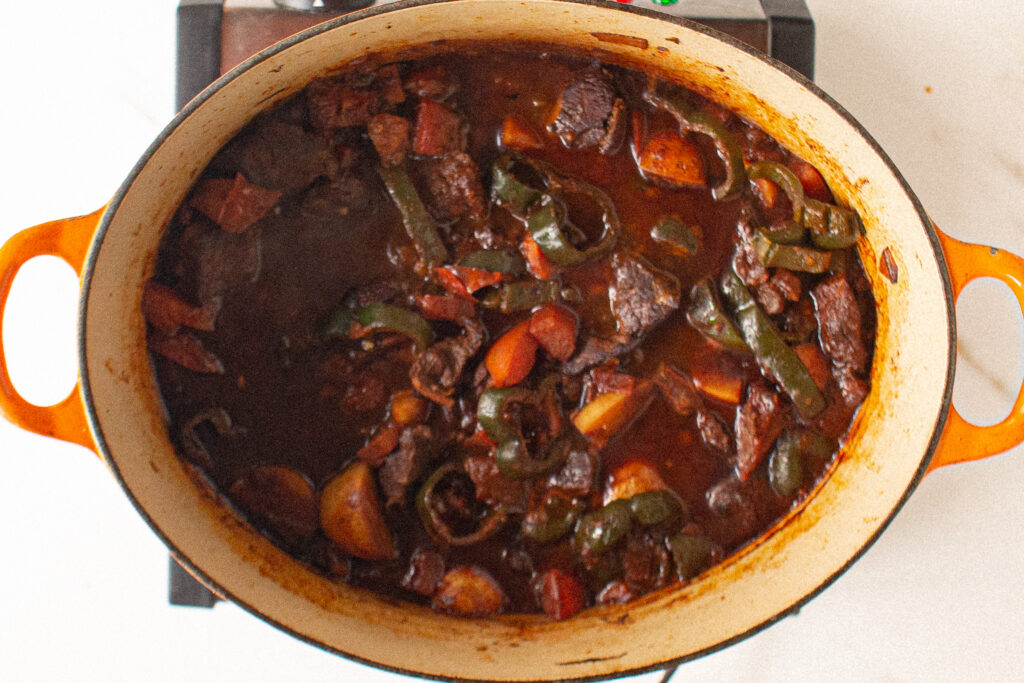 Let's make Hungarian goulash
A few key points for success:
Sear the meat well. It should be brown, crusty, and have a great aroma.
When you add the onions and spices, cook them for as long as you think they should be cooked, and then cook them some more. This step is crucial to coaxing the deep, rich flavors out of these ingredients.
The finished product will have the consistency of a soup rather than a stew. Don't let this fool you. Our American version has morphed into a thick and almost pasty consistency. That consistency is not what we're going for but don't worry! The broth will be deep, delicious, and soul-satisfying.
Let's eat!
This is a complete meal by our modern protein, starch, and vegetable standards, but there are some complimentary additions that work well.
In her article, Copland's first suggestion is cutting into a crusty round loaf of sour rye bread. I can attest that she is right on the money.
If you want to keep it traditional, Hungarians commonly eat goulash with csipetke. This pinched egg noodle is a cross between spaetzle and the German egg noodles we know today. They are simple to make. I will link a video here. (Note: This video is in Hungarian by Wurgar Falodája but if you don't speak the language, don't worry. The visual content is excellent!).
Finishing off goulash can include a dollop of sour cream and a couple of pinches of chopped fresh dill.
Enjoy!
Print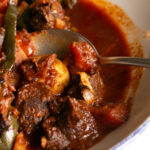 The Original Comfort Food: Hungarian Goulash
---
Author:

Prep Time:

15 minutes

Cook Time:

2 hours

Total Time:

2 hours 15 minutes

Yield:

8

healthy servings

1

x
Description
Authentic Hungarian Goulash is a delicious alternative to beef stew! This recipe is 1100 years old making it original comfort food!
---
1/4 cup

of avocado or canola oil

1 1/2

–

2

pounds beef chuck roast, trimmed and cut into

1/2

inch cubes

2

onions chopped

1/4 cup

of sweet paprika

2 teaspoons

of caraway seeds, ground into a powder with a mortar and pestle

2

medium carrots cut into

1/2

inch dice

2

cloves of garlic, minced

5 cups

filtered water.

2

medium or

one

large parsnip cut into

1/2

inch dice

2

roma tomatoes, seeded and chopped

6

each new potatoes cut into quarters

2

medium fresh pasilla peppers, seeded and chopped
csipetke or crusty rye bread (optional)
sour cream (optional)
chopped dill (optional)
---
Instructions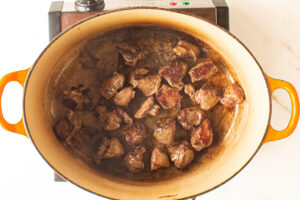 1. Season the beef with salt and pepper. In a hot dutch oven heat the oil to a shimmer. In batches, add the beef in a single layer. Cook until well browned on all sides.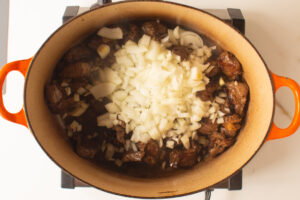 2. Add all the beef back into the dutch oven, Keep the heat at a medium temperature. Add the onions and salt. Sweat the onions until they are soft and translucent.
TIP: Add a little salt to vegetables you want to sweat with no color. The salt extracts water from the vegetables which help prevent them from caramelizing.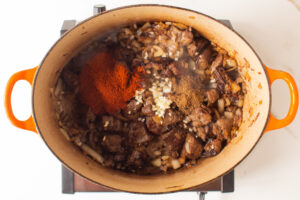 3. When the onions are soft add the paprika, ground caraway seeds, and garlic. Cook for two minutes until fragrant.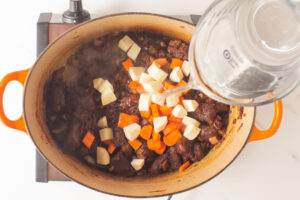 4. When the aromatics are fragrant, add the carrots and parsnips and 5 cups of water. Bring to a boil and reduce to a simmer. Cover and cook for 45 – 60 minutes. The beef should start to become tender.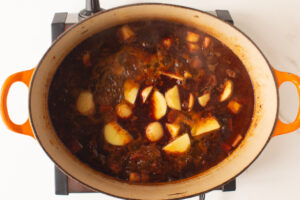 5. Once the beef is becoming tender, add the potatoes. Cook uncovered for another 45 – 60 minutes until potatoes and beef are fork-tender.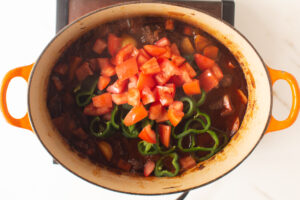 6. When the beef and potatoes are fork-tender add the peppers and tomatoes. Cook for 10 – 15 minutes until the peppers are soft.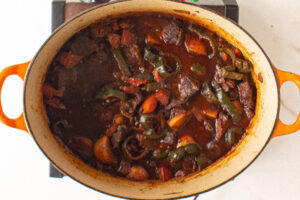 7 Ladle into a bowl, top with sour cream and dill (optional) and eat with a nice chunk of rye bread if you desire.  ENJOY!
Notes
Goulash freezes very well. It's always preferred to vacuum seal rather than using freezer bags. I use this affordable vacuum sealer. 
I can't stress enough to make sure you get Sweet Hungarian Paprika, not Hot or Smoked. 
Category:

Hearty Soup

Method:

Stovetop

Cuisine:

Hungarian
Keywords: Hungarian, Goulash, Comfort Food,