4

  tablespoons of olive oil

1

large head of broccoli, remove the florets and reserve the stems

2

cloves of garlic, peeled, and minced

1/2 teaspoon

of ground cumin

2 pints

of ripe grape or cherry tomatoes, rinsed

1/4 cup

of white wine

3 tablespoons

of Harissa

1/2 cup

oil-cured black olives

1

15oz can of chickpeas, rinsed well.
a block of sheep's milk feta, 12-16 ounces, cut into 1/4 inch slices

2 teaspoons

dried oregano
---
Instructions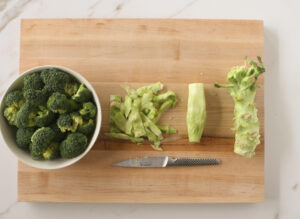 1. Pre-heat the oven to 375f. Take the reserved broccoli stems, peel them down with a knife until just the white flesh shows. You will also need to take off the bottom of the stem as it's tough.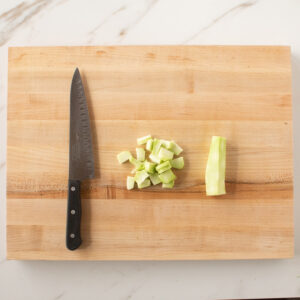 2. Halve the stem and make 1/4 inch slices. Reserve.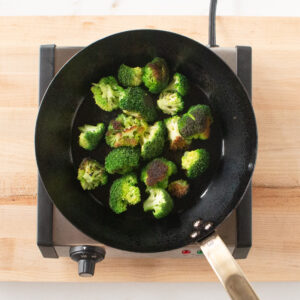 2. Add olive oil to a saute pan and heat until it shimmers. Add the broccoli and cook at medium heat until browned. Flip and repeat. Reserve.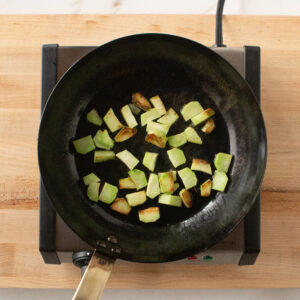 3. Sear the stems in the same way. Feel the joy of using them!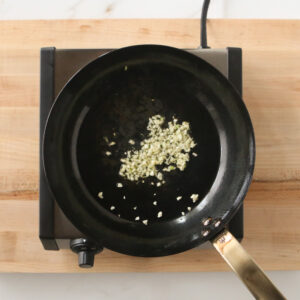 4. Wipe the pan. Add olive oil. Heat to shimmer. Add garlic and cook just until you smell it.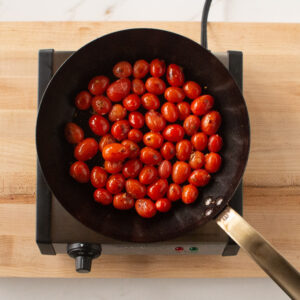 5. Add the tomatoes. Cook at high heat. Toss or stir as they begin to blister. Season with salt.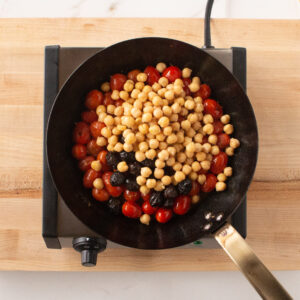 6. When the skins blister and take on some color, add the cumin, olives, and chickpeas. Add the wine. Continue to toss at high heat.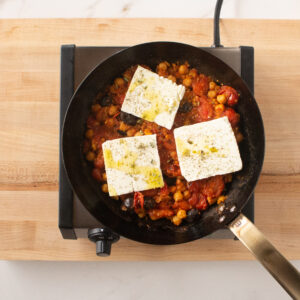 7. When the tomatoes have broken down, and the wine is reduced by half, fold in the Harissa and season with salt. If the tomatoes seem dry add a 1/2 cup of water. Place the sliced feta on top of the tomatoes, and bake for 15 minutes.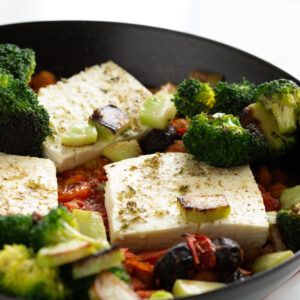 8. Remove from the oven, top with the broccoli, and serve with pita or crusty bread. Enjoy!
Category:

vegetarian

Method:

bake

Cuisine:

Mediterranean
Keywords: Vegetarian, One-Pan, Under 30 minutes