The inspiration for this baked feta with chickpeas recipe came from the book Cook90: The 30-Day Plan for Faster, Healthier, Happier Meals by David Tamarkin, which the New York Times called "excellent." David is the digital director of Epicurious, creator of COOK90, and coauthor of More Mexican Everyday.
As I made David's baked feta recipe for my wife on a recent night, I was a little skeptical. Could a generous slab of feta satisfy my Friday evening hunger? Just in case, we heated some Trader Joe's naan bread to keep in the reserves. Let me say: It was unnecessary to call up the naan to the front line as this dish turned out to be a soul-satisfying meal of Mediteranean flavors. Every bite just popped. (But tasty naan half slices did make an excellent addition to the team!) We enjoyed it so much that I decided to come up with my take on this tasty dish, Baked Feta with chickpeas, burst tomatoes, and broccoli (two ways!).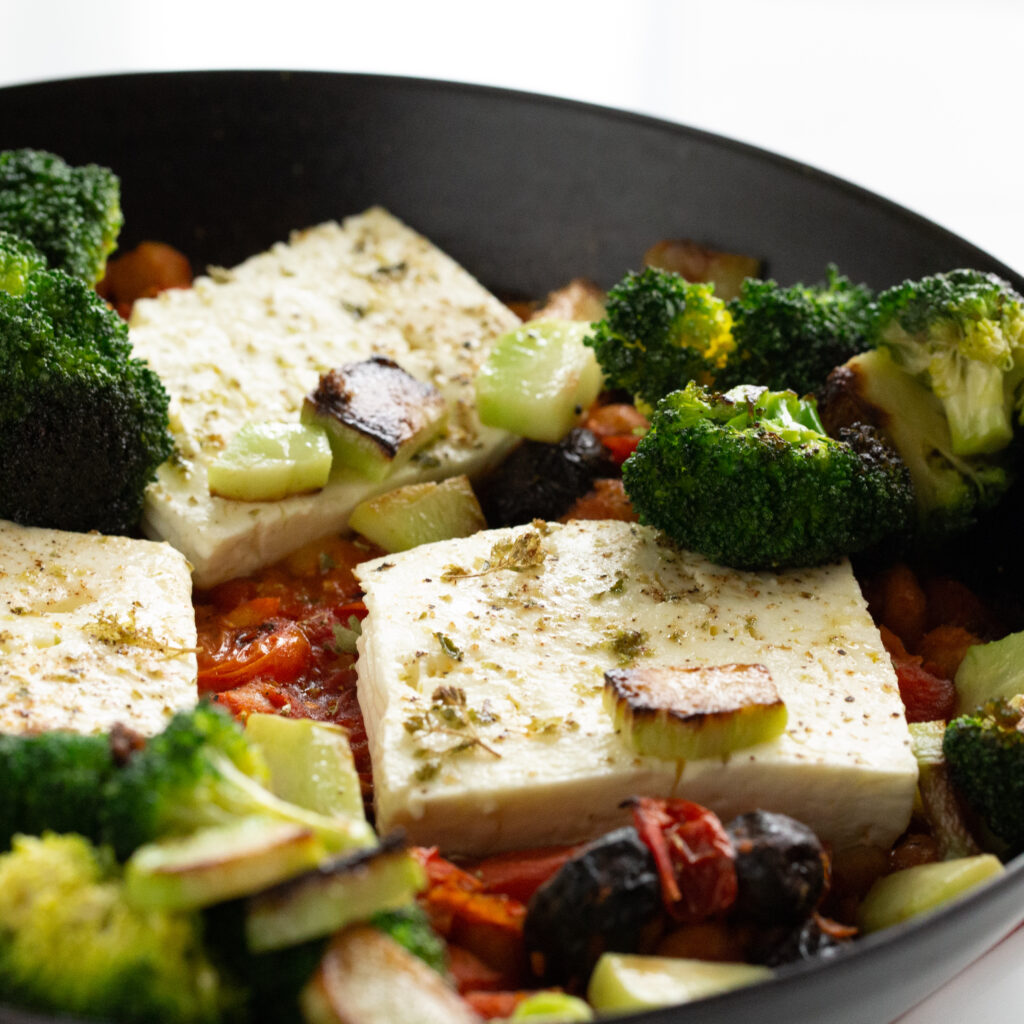 Feta, my true love
I just realized that this is only the fifth recipe I've blogged about at Intuitive Gourmet, but it's already the second time I have used feta cheese. My fellow bloggers may frown at my repetition but there must be a good reason for this, right?
There is! Feta cheese completes me. It's the middle of my omelets, the salty creaminess of my salads, and the spread for my bread! There is nothing I look forward to more when I go to yet another wedding at a North Jersey box wedding house than that triangle of deliciousness we always get: spanakopita! The baked feta wrapped so delicately in paper-thin phyllo takes the edge right off the boxed Chardonnay and transports me far away from the DJ from Hell.
A little background: Feta is a white curd cheese traditionally made from sheep's milk (nowadays, producers can make it with a blend of sheep's and goat's milk) aged in brine, giving it a viscous exterior. It has a velvety saltiness that takes over immediately at first bite.
Baking feta for a short time is genius. It will not melt. It loses its tendency to crumble and instead maintains a solid mass that breaks cleanly on your fork to get a sturdy bite.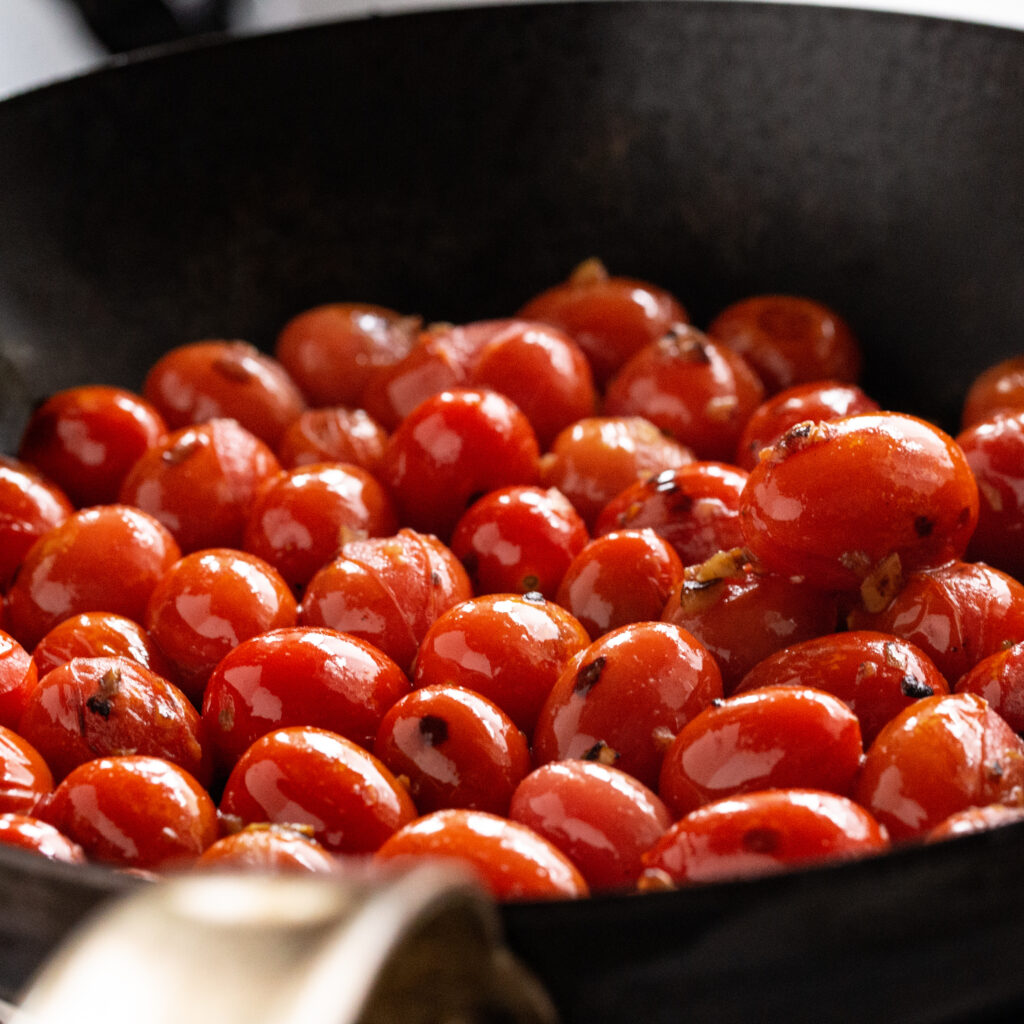 Burst tomato sauce
Burst tomato sauce is the popular "new kid in town." The sauce is simply made by heating oil in a skillet and just throwing in the tomatoes. As the skin begins to burst, the tomatoes break down. The high content of pectin and water in the tomatoes creates a saucy consistency without any additions.
You can find pretty decent quality grape or cherry tomatoes in almost any market year-round since the hydroponic farmers have really gotten their act together and are producing some delicious products. These tomatoes will provide you with a summer-like fresh sauce.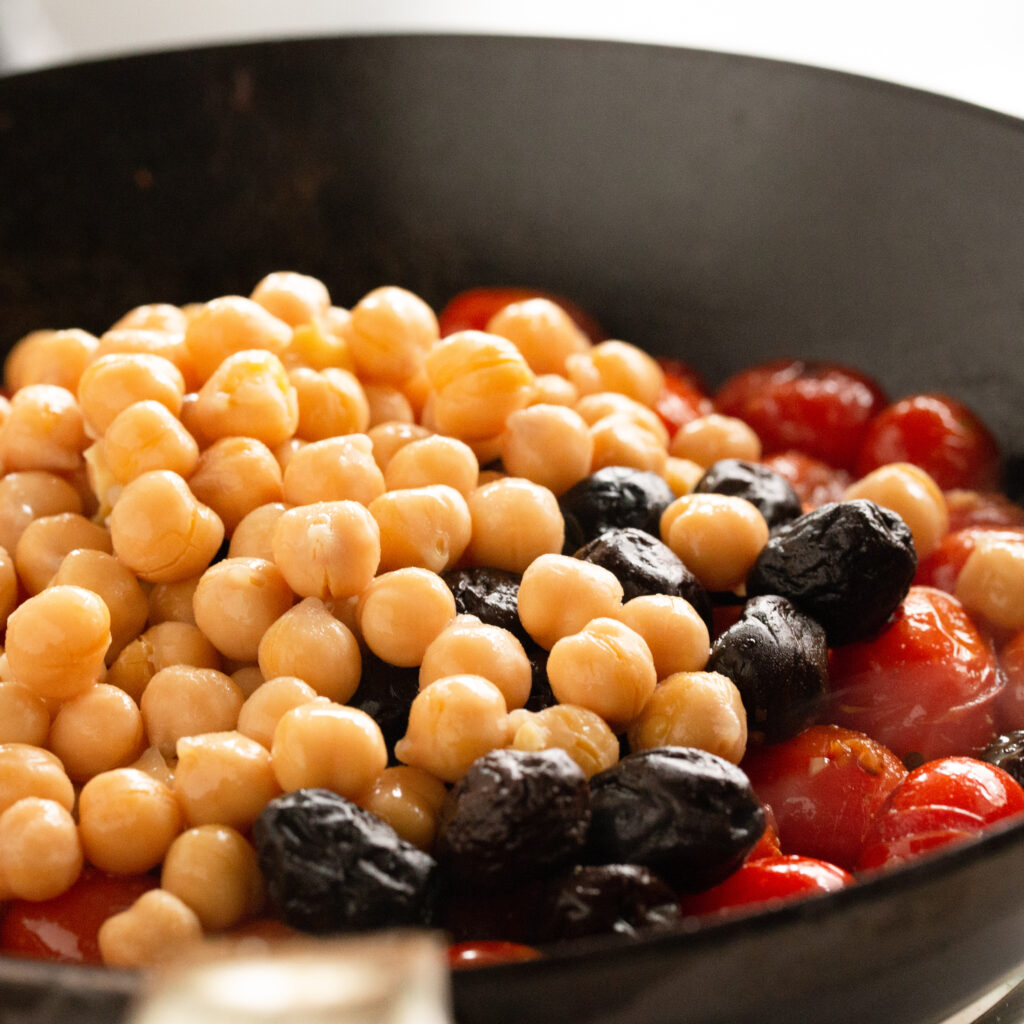 Chickpea
A staple of vegetarian cuisine, the protein-packed chickpea is a flavor sponge that holds its shape and texture, making this legume perfect for incorporating into various cooking styles.
Are you making a salad? Marinate them in the dressing for an hour before digging in. Even better, dry them and sear them off in a cast iron pan so they're crispy. Toss them in your favorite spice, then add them to your salad in place of croutons.
Do you need a protein source for your pasta? Throw some chickpeas into the pan as you toss the pasta in the sauce.
Do you want a dairy-free dip or spread? Well, no brainer…make hummus. I think you get the idea.
In this recipe, we'll add chickpeas to a burst tomato sauce, and bake.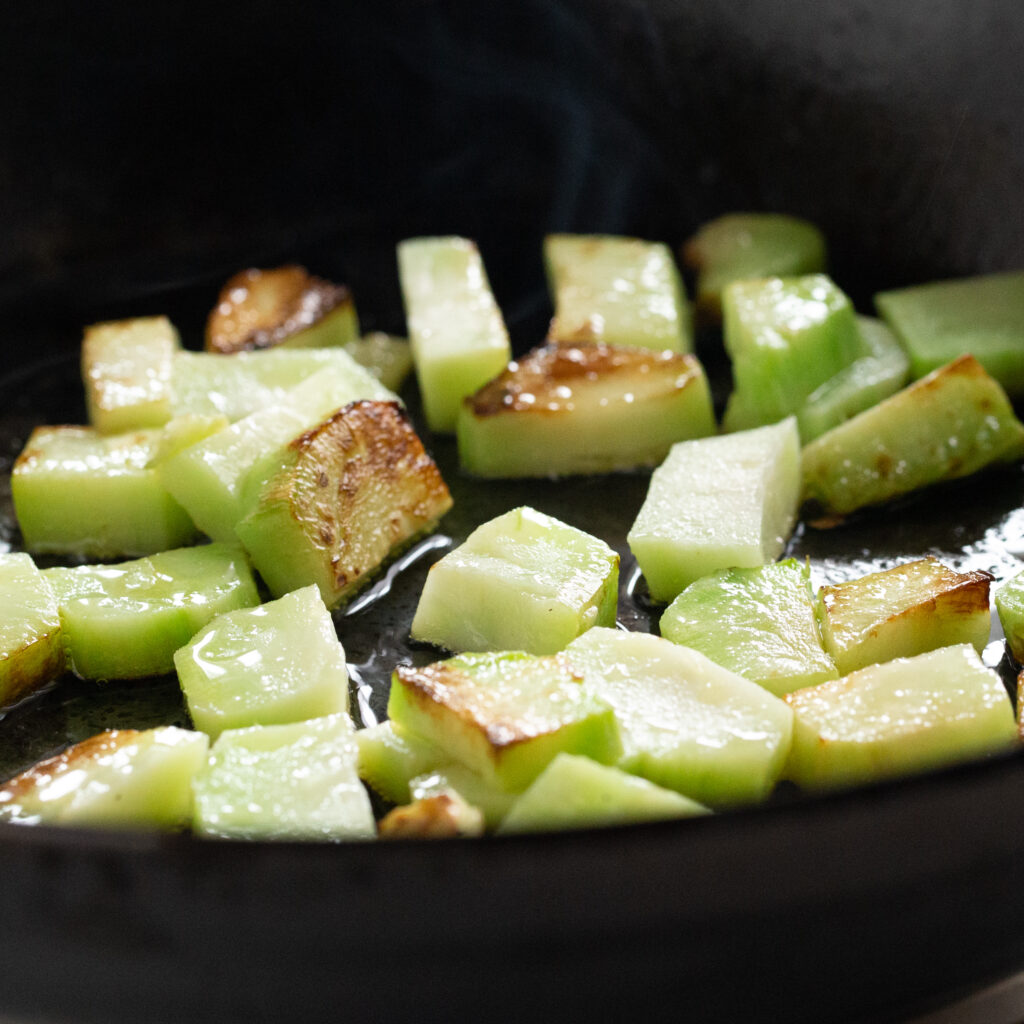 A couple more cool parts of this recipe
Most broccoli stems end up in the waste can or compost bucket. I really enjoy the stems. They offer a sweeter broccoli flavor than their florets. They are crunchy and sear well. We all know broccoli is good for us (thanks Mom), but the stems offer a huge burst of fiber along with the copious amounts of vitamin C, B, and potassium the florets contain. They do require a little work though. I will explain how to fabricate them in the recipe.
Harissa is a Tunisian chile paste that serves as a condiment in Tunisian cuisine. It's made from roasted red peppers and Baklouti peppers, spices, and herbs such as garlic paste, caraway seeds, coriander seeds, cumin, and olive oil. The flavor is more sweet than heat, and the spice blend works perfectly for this dish.
I suggest using a carbon steel pan if you have one. It's great for searing the broccoli while giving a superior even heating surface in the baking process. If you don't have one, you should get one. They are my go-to pan for everything because they are a non-toxic, non-stick pan that doesn't break the bank. Interested?
This well-built yet straightforward dish will be a welcome vegetarian addition to your repertoire.
Enjoy!
Print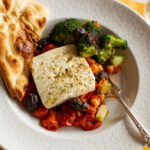 Baked Feta with Chickpeas, Broccoli, and Burst Tomatoes
---
Author:

Prep Time:

15 minutes

Cook Time:

15 minutes

Total Time:

30 minutes

Yield:

3

servings

1

x
4

  tablespoons of olive oil

1

large head of broccoli, remove the florets and reserve the stems

2

cloves of garlic, peeled, and minced

1/2 teaspoon

of ground cumin

2 pints

of ripe grape or cherry tomatoes, rinsed

1/4 cup

of white wine

3 tablespoons

of Harissa

1/2 cup

oil-cured black olives

1

15oz can of chickpeas, rinsed well.
a block of sheep's milk feta, 12-16 ounces, cut into 1/4 inch slices

2 teaspoons

dried oregano
---
Instructions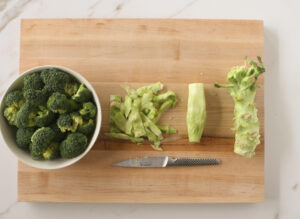 1. Pre-heat the oven to 375f. Take the reserved broccoli stems, peel them down with a knife until just the white flesh shows. You will also need to take off the bottom of the stem as it's tough.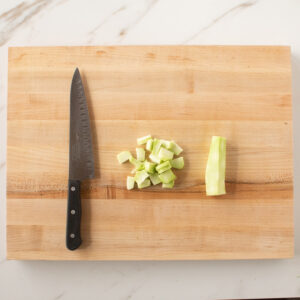 2. Halve the stem and make 1/4 inch slices. Reserve.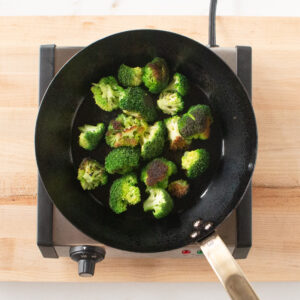 2. Add olive oil to a saute pan and heat until it shimmers. Add the broccoli and cook at medium heat until browned. Flip and repeat. Reserve.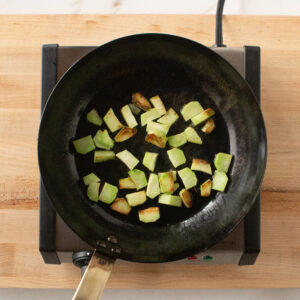 3. Sear the stems in the same way. Feel the joy of using them!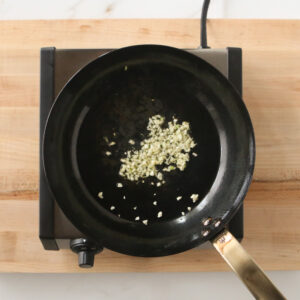 4. Wipe the pan. Add olive oil. Heat to shimmer. Add garlic and cook just until you smell it.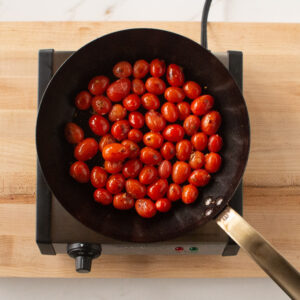 5. Add the tomatoes. Cook at high heat. Toss or stir as they begin to blister. Season with salt.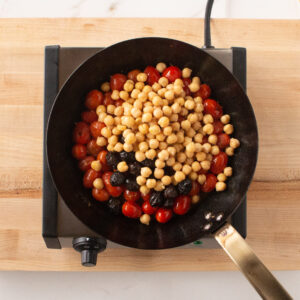 6. When the skins blister and take on some color, add the cumin, olives, and chickpeas. Add the wine. Continue to toss at high heat.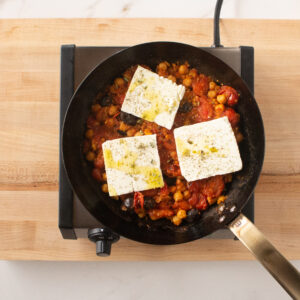 7. When the tomatoes have broken down, and the wine is reduced by half, fold in the Harissa and season with salt. If the tomatoes seem dry add a 1/2 cup of water. Place the sliced feta on top of the tomatoes, and bake for 15 minutes.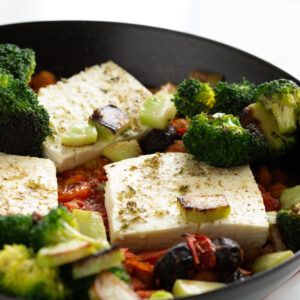 8. Remove from the oven, top with the broccoli, and serve with pita or crusty bread. Enjoy!
Category:

vegetarian

Method:

bake

Cuisine:

Mediterranean
Keywords: Vegetarian, One-Pan, Under 30 minutes