This lamb shoulder ragu, which features the highly flavorful shoulder cut of lamb and the flavor bang of olives and feta cheese, is excellent comfort food on a chilly night.
I love Mediterranean flavors. They really pop in the summertime with the multitude of fresh produce in their long growing season. Ingredients like tomatoes, peppers, garlic, and eggplant rule this cuisine.
But guess what? Winter comes to the Mediterranean too! The fall months there are spent jarring, curing, and pickling, so the harvest will last until the weather turns warm again. Peppers are roasted, eggplants and garlic are confited, and tomatoes are blanched and peeled before they are jarred. These ingredients take on a different flavor profile when preserved. They only lose some of their acidity and bite. Their flavors mellow and even sweeten a touch, making them a delicious addition to warming dishes like this lamb ragu.
Speaking of tomatoes, when in season, fresh tomatoes are fantastic for salads or to slice and put on a sandwich, but you would never want to make a ragu or braise with store-bought fresh tomatoes. Store-bought tomatoes tend to be a crap-shoot for eleven months of the year, and even during the peak months, I'm generally not impressed unless you hit the farmers market, or even better yet, grow them yourself. Canned tomatoes, on the other hand, are harvested and preserved at the height of tomato season. High quality canned tomatoes (I use Jersey Fresh or most any canned tomato from the San Marzano region of Italy) have some salt added. Any tomato lover knows what a little salt will do to the flavor of a tomato. BOOM! 
Please don't buy the pre-diced canned tomatoes, though. Chemicals (calcium chloride) are added, so the tomatoes keep their shape and don't break down. I always purchase peeled whole tomatoes instead. You can either run them through a food mill or simply break them apart with your fingers, which is kind of fun!
Let's get into the dish.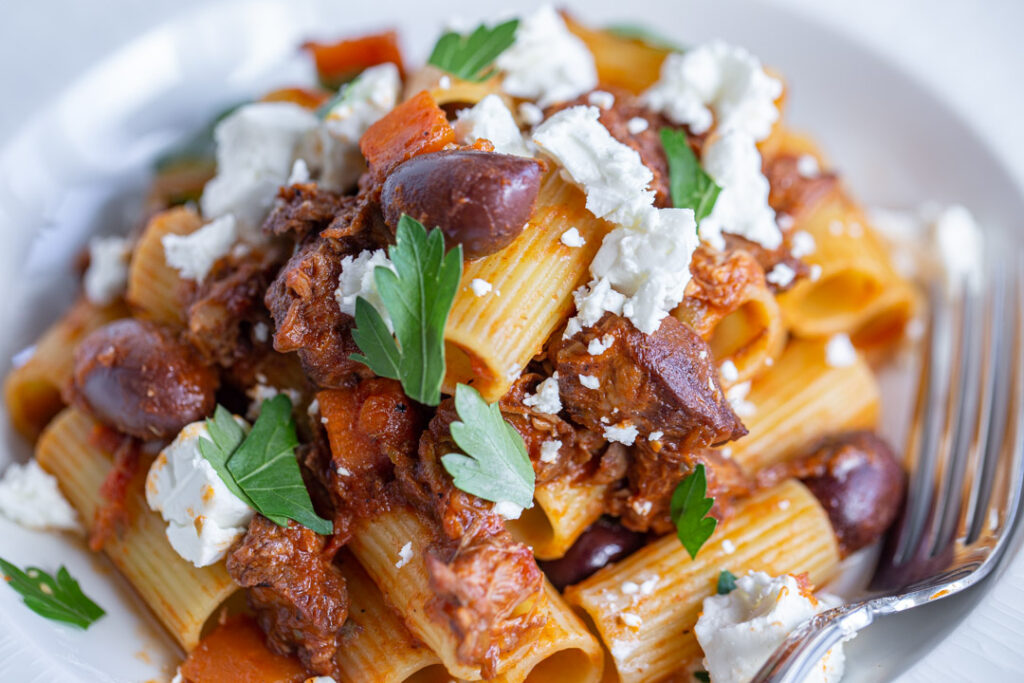 This recipe has some ingredients that you might not think belong together: anchovies and cinnamon. I use a bit of minced anchovy—which disintegrates in olive oil—when creating the base for the sauce. Don't worry, anchovy haters: You will not taste them outright. When used in small increments, this tiny but flavor-packed ingredient adds an umami quality to any dish. Anchovies are a cook's secret weapon. I have used them in vinaigrettes, stews, and sauces where you would never think they would belong. They are a very similar ingredient to Vietnamese fish sauce in that a little bit goes a long way!
At the opposite end of the spectrum is the cinnamon stick. You will find that it just seems to marry perfectly with the lamb and tomatoes. The flavor is subtle, but it warms you and takes you to that comforting place. You'll be surprised at how well the spice makes the components like the olives and feta cheese pop.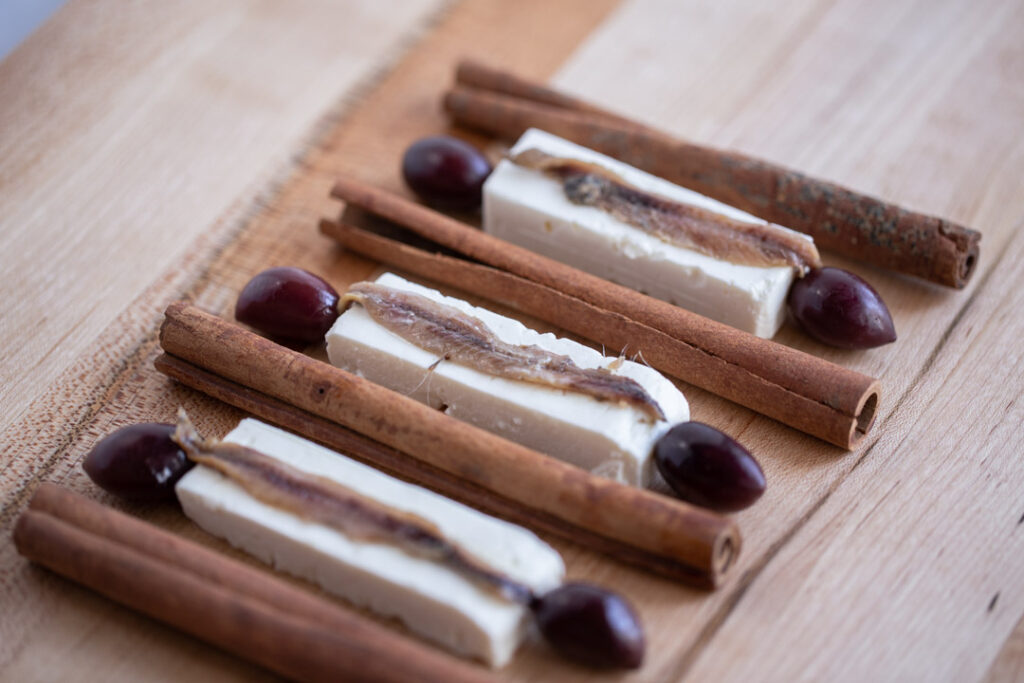 The slow-cooker is the perfect method for this ragu as all of these flavors need time to blend. Can I tell you how delicious the olives are in this finished sauce? They are like flavor sponges with the benefit of having a firm, salty, explode-in-your-mouth quality.
I love rigatoni with a thick, hearty sauce like this one. It holds its shape and grabs the sauce making sure every bite is flavorful.
I suggest sipping a glass of a full-bodied Italian red wine like a Dolcetto from Piedmont as you dig into this ragu. The wine's low acidity and full fruit flavors will complement this dish perfectly.
Enjoy!
Print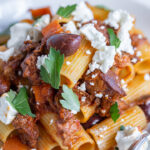 Lamb Shoulder Ragu with Feta Cheese, and Rigatoni
---
Author:

Prep Time:

20 minutes

Cook Time:

4 hours

Total Time:

4 hours 20 minutes

Yield:

4

heathy portions plus some leftover!

1

x
Description
This ragu, which features the highly flavorful shoulder cut of lamb and the flavor bang of olives and feta cheese, is excellent comfort food on a chilly night.
---
2 tablespoons

of avocado oil (any high-temperature oil will do)

2

to

2.5

pounds of lamb shoulder, cut into

1.5

-inch cubes

3

anchovy filets, rinsed, dried, and minced

1

onion, peeled, and medium diced

3

cloves of garlic, peeled and minced

2 tablespoons

of tomato paste

3/4 cup

of red wine (full-bodied)

2

carrots, peeled and medium diced

2

stalks of celery, medium diced

1/2 cup

of kalamata olives (with pits)

1

–

28

ounce can of whole peeled tomatoes, smashed by hand or put through a food mill

3/4 cup

of beef stock

1

large bay leaf

1

large cinnamon stick

1 cup

pf greek feta, crumbled 

1

pound of rigatoni

2 tablespoons

of torn Italian flat-leaf parsley leaves
---
Instructions
In a large saute pan, heat oil to a shimmer, season generously with kosher or sea salt and fresh ground black pepper, add cubed lamb in a single layer (use tongs, so you don't get hot oil splatter on your hands) and sear on all sides. Repeat this process, dumping the oil and wiping the pan out after each batch.  Put the cooked meat in the slow-cooker.
In the same pan, add oil and heat to a shimmer, add the minced anchovies and mix until they disintegrate in the oil.
Add the onions and cook until softened.
Add the tomato paste and cook for an additional 2 minutes stirring.
Add the red wine and reduce by half. Add to the slow cooker.
Add the carrots, celery, olives, bay leaf, beef stock, and tomatoes to the slow-cooker.
Cook for 4 hours at the high setting.
Cook the rigatoni to al dente.
Transfer the cooked pasta to a large mixing bowl. Mix the ragu in with the pasta, stirring gently as to not break the rigatoni.
Divide into 4 bowls, generously top with crumbled feta cheese and torn parsley.
ENJOY!
Notes
If you have a hard time finding a lamb shoulder, a leg will work. Some butchers or grocery stores offer "lamb stew meat already cubed; this will work fine as well.
You can absolutely omit the anchovies.
Make sure the feta is greek sheep's milk. Try to get a whole piece and crumble it yourself. The quality is better, as it is a less processed product.
Category:

slow-cooker

Method:

Slow-Cooker

Cuisine:

Mediterranean
Keywords: Lamb, Ragu, Slow-cooker, Pasta, Feta