Potato gratin with goat's cheese is spectacular!
I love cheese! I know it's classified as dairy, but I think cheese deserves to be its own food group.
The magnitude of the world of cheese just fascinates me. Cow's milk, goat's milk, sheep's milk, buffalo, blends, blue, smoked, sharp, stretch curd, fresh, cave-aged, hard, soft. There are so many different kinds of cheese that, even as a chef who is a cheese freak, I've barely scratched the surface of cheese knowledge!
Even with so many amazing options, sometimes choosing a cheese can be like going to your favorite diner. The menu is big, but you usually end up getting the same familiar thing each time. For me at the diner, it's a bacon and American cheese egg white omelet ( as if the egg whites make me health-conscious!). At the cheese counter, I almost always opt for goat's cheese.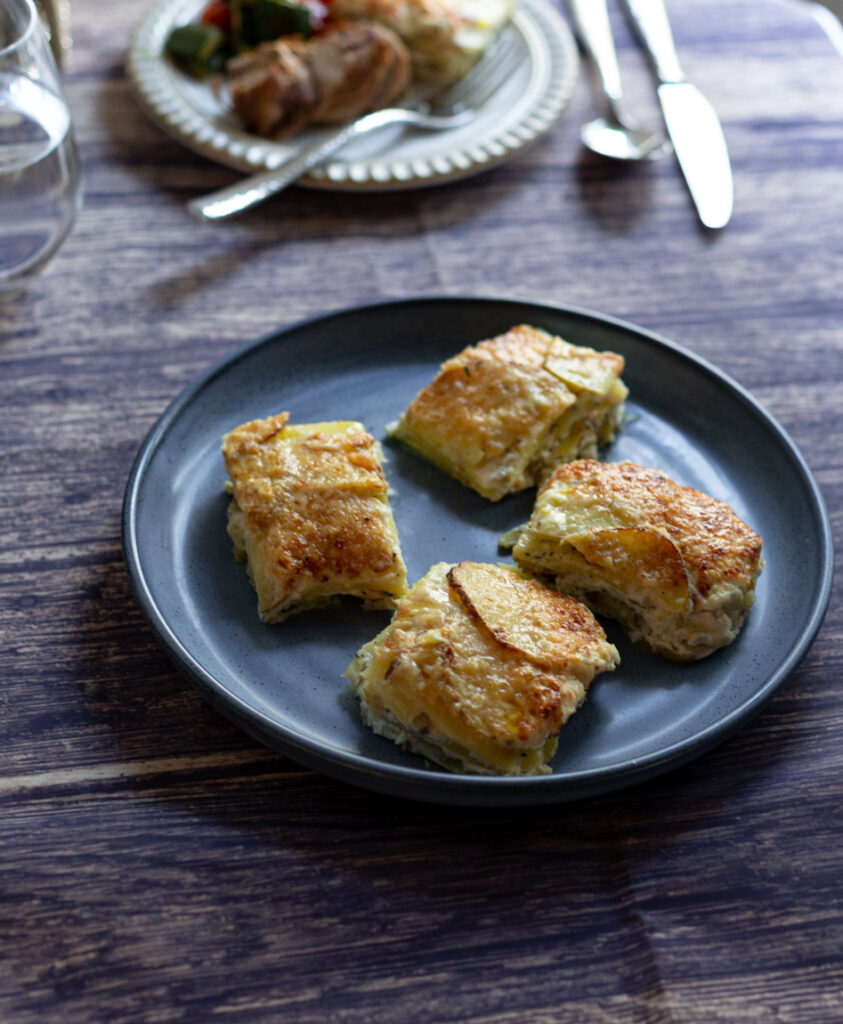 Why goat's cheese is my go-to
Goat's cheese is an incredibly versatile cheese. A young goat's cheese is creamy, and because it's very low in fat compared to, say, cow's milk, it does not get greasy when incorporated into hot food like a potato gratin. It also breaks down easily when whipped into other ingredients for cold dishes like dips and dressings.
TIP: If you attempt to make a hot sauce with goat's cheese for pasta, for example, keep in mind that if the sauce reaches a boil it will break down and become grainy. It won't melt because the cheese is made using acid rather than rennet. When you incorporate the goat's cheese into a pasta dish, stir it into the cooked pasta at the last minute and you will have a sexy, creamy sauce.
Goat's cheese can also have varying flavors based on its age. A very young goat's cheese will blanket your tastebuds with an acidic tang. An older goat's cheese will have an earthy, nutty flavor and be a little firmer. It will be more of a stand-alone cheese to be eaten with fruit or nuts.
TIP: Are you lactose intolerant? Well, goat's cheese is your friend! The lactose content is very low.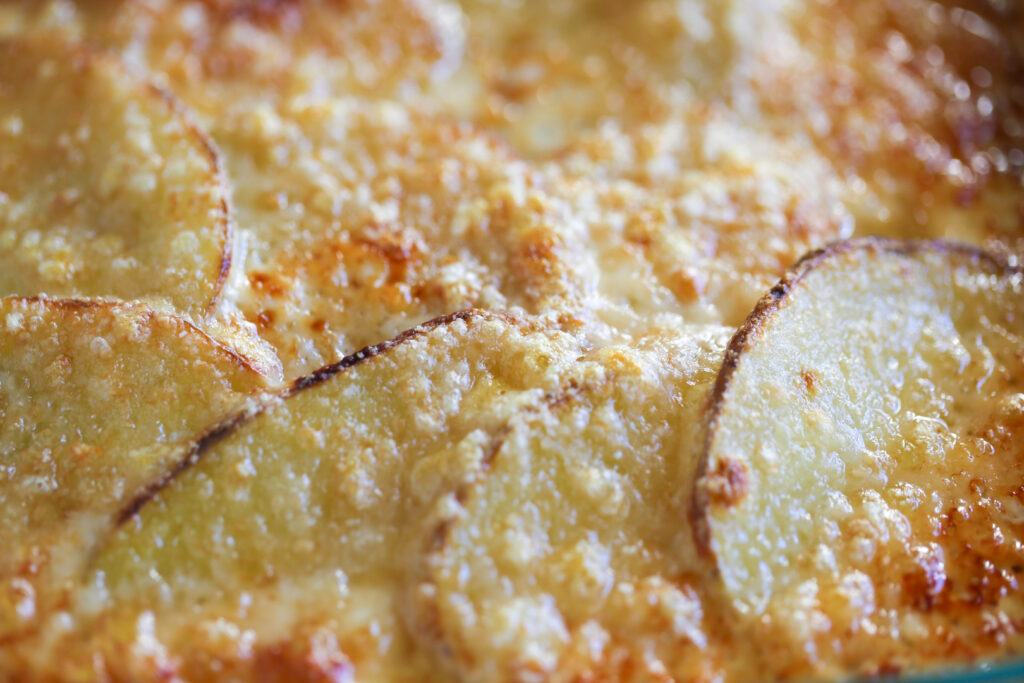 Let's make a gratin!
For me, there is only one choice for the potato I use when I make gratin: the Yukon gold. Russet potatoes are high in starch and absorb any liquid or flavor they come into contact with. Because of this, they tend to break down very easily (which makes them ideal for mashing). On the other end of the spectrum, red and white creamer potatoes that you would use in a potato salad are very waxy and will hold their shape unless you obliterate them in the cooking process.
Yukon golds, however, are the best of both worlds. They are a medium starchy potato which allows them to absorb liquid but they have enough waxiness to hold their shape in the cooking process.
When you cook anything in liquid, it is the liquid which will add the flavor to what you're cooking. This is true when you cook rice, vegetables, pasta, and you guessed it, potatoes. This is why for the gratin, I flavor my cream by steeping it, in this case, garlic and thyme. When I heat my cream, I heat it with thyme stems and smashed cloves of garlic. I bring the cream to a simmer (watch it closely, or you'll be cleaning up a big mess when it boils over on your stove), and shut it off. Then, just cover it and let the thyme and garlic steep for 15 minutes before assembeling. You will get yummy flavor throughout the finished product.
The way that I have found works best for even distribution of seasoning is heating and seasoning the cream first, then slicing and layering the potatoes and adding whatever solid ingredients you are using. In this case, it's crumbled goat's cheese and chopped thyme. Lastly, I gently pour in the hot seasoned cream so as not to disrupt the carefully arranged layers.
I choose to keep the skin on my potatoes for the simple reason that you can taste the potato a lot more. I love the earthy smell and flavor of a raw potato. You tend to get a little more of that earthiness with the skin on.
Disclaimer: While this is a goat's cheese potato gratin, you'll notice that I do sprinkle a little bit of Reggiano parmesan on each layer. I like adding a little nuttiness and salt, and this addition gives the dish a touch more cheesiness. Did I tell you, I LOVE CHEESE?
A good firm goat's cheese is here.
Enjoy!
Print
potato gratin with goat's cheese
---
Author:

Prep Time:

20 minutes

Cook Time:

45 minutes

Total Time:

1 hour 5 minutes

Yield:

6

–

8

servings

1

x
Description
This creamy potato gratin with tangy goat's cheese pairs well with roasted pork, chicken, and any grilled or roasted beef dish.
---
4

pounds of Yukon gold potatoes, scrubbed

1 pint

of heavy cream
 4 ounces of firm fresh goat's cheese

1

bunch of fresh thyme, picked, gently chopped, stems reserved

3

cloves of garlic, peeled and smashed

2 tablespoons

of unsalted butter

3/4 cup

Reggiano parmesan cheese, grated
---
Instructions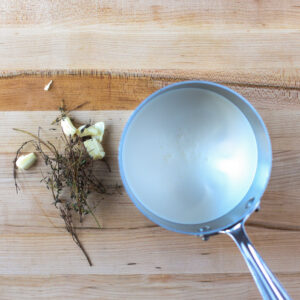 1. preheat oven to 435 F. In a small saucepot, add all the cream except a 1/2 cup, the thyme stems, and the crushed garlic.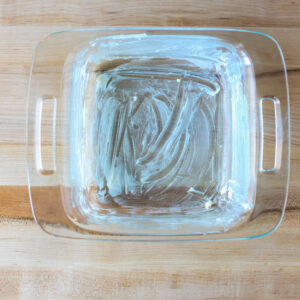 2. Butter an 8×8 (2-quart) baking dish completely.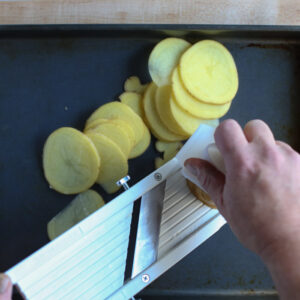 3. Slice the potatoes with a mandoline a 1/4 inch thick over a cookie sheet. Please keep it clean!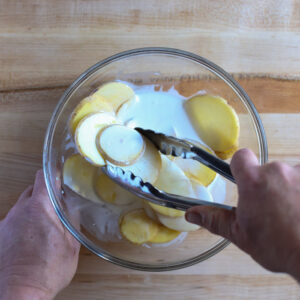 4. Place the sliced potatoes in a bowl and toss with the remaining 1/2 cup of cream. This will prevent them from turning brown through oxidization. 
5. Layering the potatoes by shingling them in a single layer. Sprinkle salt a few grinds of pepper, goat's cheese, thyme, and parmesan. Keep the cream that's leftover for step 7.  Keep a kitchen towel handy as your fingers will become coated with all of these ingredients!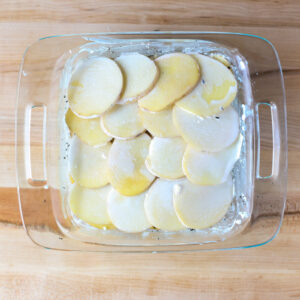 6. Make 4 layers. Keep the top layer plain.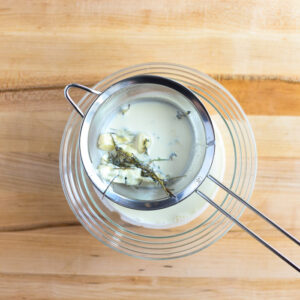 7. Strain out the thyme and garlic in the cream, and gently pour over the potatoes. Press down lightly. If you need more cream, use the leftover from the raw potatoes.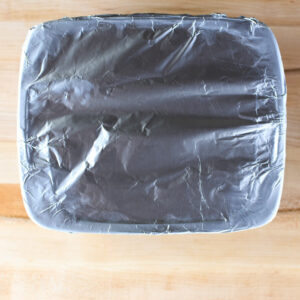 8. Cover tightly with foil. Make sure the foil does not touch the potatoes. If it does, place a piece of wax paper between the potatoes and foil. Bake for 20 minutes at 425. Lower the heat to 325 F and cook for additional 35 minutes. Remove from the oven. Lift the foil without tearing and pierce the center with a knife. If the knife goes all the way through cleanly, you are ready for the next step. If it still has some bite, re-cover and cook for 10 minutes more.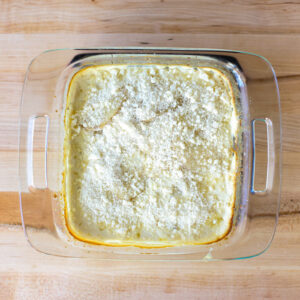 9.  Put the oven on broil-high. Remove the foil. You can tear it off as you will not need it anymore! Generously cover the top parmesan cheese. Broil for 5 minutes, or until the top is golden brown.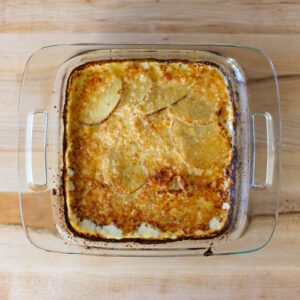 10. Remove the gratin. This is very important: let the gratin stand for 30 minutes before you cut it. Enjoy!
Notes
Make sure to use a firm goat's cheese. This one is great!
Since this gratin has cream and goat's cheese, it needs to set up by cooling down. This is not a side dish that needs to be served piping hot. I personally let it sit for an hour on a cooling rack before I serve it. Just warm lets the flavors come through as well.
Keywords: potato gratin, goat cheese, side for roasted meat, creamy