I have been blessed to visit South Carolina for the last 14 years to stay on Hilton Head Island and in the Bluffton area. Though geographically close, and both serving phenomenal Lowcountry shrimp and grits, these two areas are quite different from each other.
Hilton Head is a 42- square-mile, well-maintained sandbar where neon lights are illegal and gated communities, nondescript condos, and golf courses are plentiful. The beaches are pristine, and the ocean is gentle.
If you enter the May River at its mouth near Hilton Head and travel upriver about six and a half miles, you will come to Bluffton, an artsy town with cozy restaurants and cafes. The tiny downtown area is lined with art galleries, antique shops, and bed and breakfasts. I love Hilton Head for the beaches, and Bluffton for the culture and food, especially shrimp and grits!
Unlike most rivers, the 15-mile-long May River has no freshwater source at its headwaters but relies on tidal shifts from the Atlantic Ocean. This unique natural environment makes it a haven for large beds of oysters, crabs, and shrimp. This natural abundance of shrimp inspires my recipe for the classic Southern dish shrimp and grits.
Shrimp and Grits today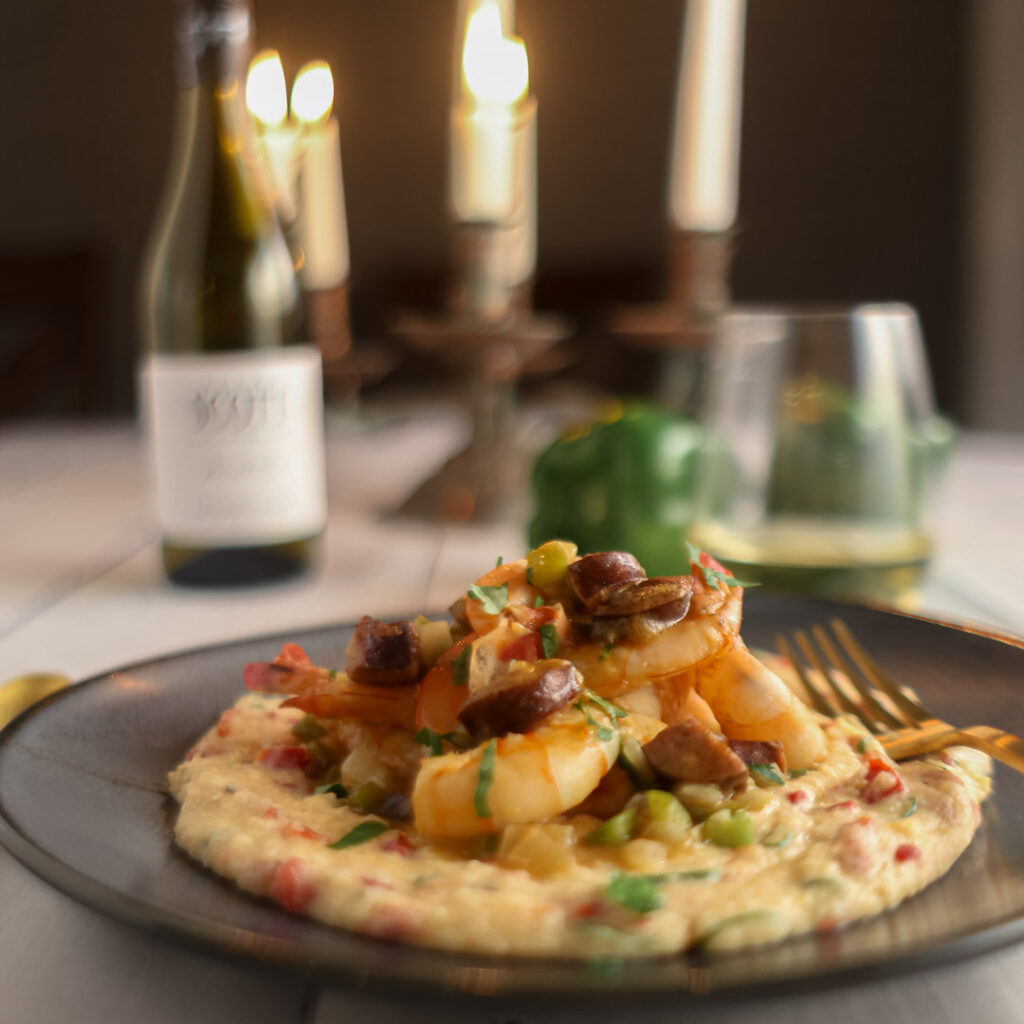 Once mainly a local breakfast meal, shrimp and grits started to gain national popularity after the New York Times featured a review of the dish at the restaurant Crooks Corner in Chapel Hill, North Carolina in 1985.
What makes Lowcountry shrimp and Grits wildly popular today is that both main ingredients are very versatile. Shrimp can be cooked in numerous ways, from grilling to boiling and seasoned in many styles from Cajun to Middle Eastern. Grits can be flavored with different cheeses and spices and can handle a multitude of various garnishes. Shrimp and grits can be incorporated into many regional cuisines based on their local ingredients.
My recipe is based on one of the earliest recorded recipes, which includes andouille sausage and peppers. Pimento cheese, a more modern Lowcountry staple will be the creamy in the grits!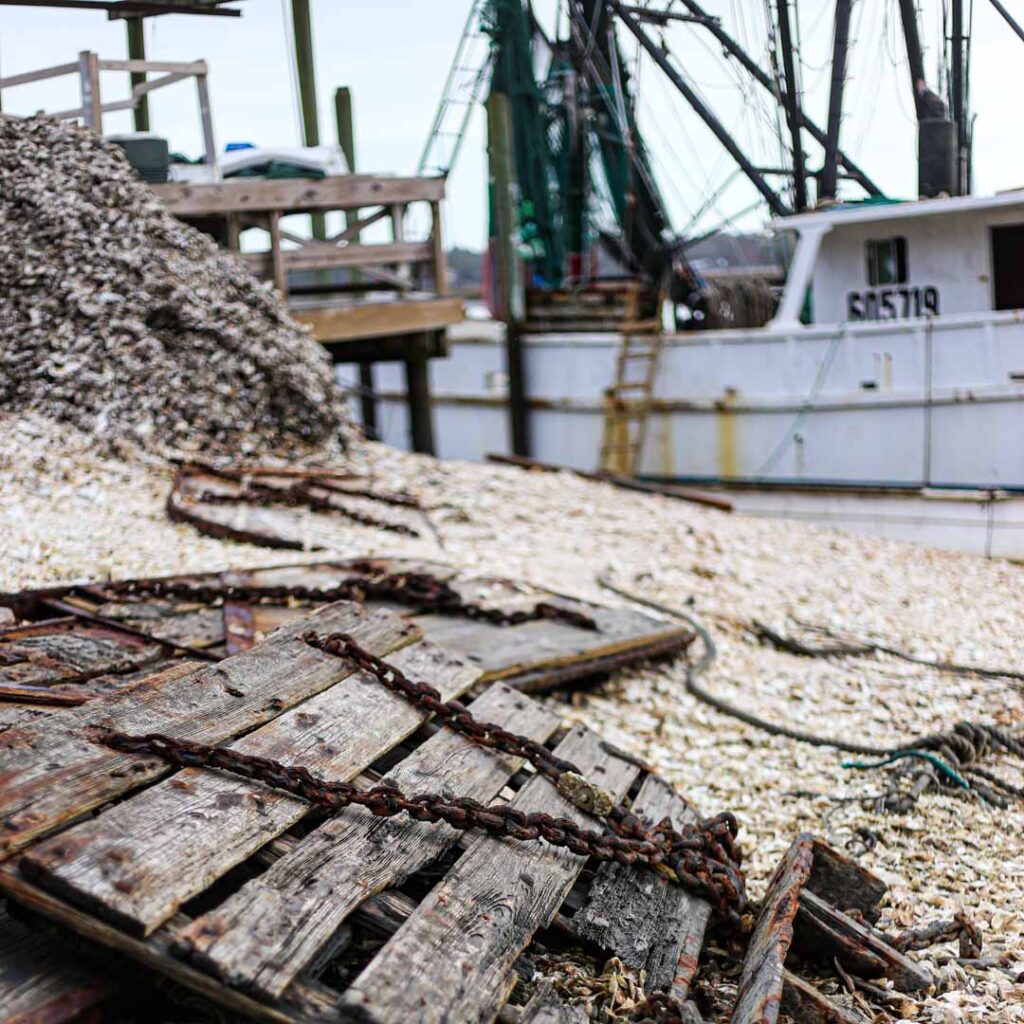 Shrimp, Keep it Local
When buying shrimp, try to hit an actual fish market and look for wild shrimp rather than farm-raised. Wild-caught, US shrimp are caught sustainably and support the US fishing industry. Unlike their imported, farm-raised counterparts, they are hormone and antibiotic-free.  These shrimp just taste better and the texture is noticeably firmer when cooked, making your Lowcountry shrimp and grits unbelievably good! Of all shrimp sold and served in this country, 90-94% are imported farm-raised, so be diligent when purchasing. When I'm in Bluffton I buy them here.
Also, make sure to ask if the shrimp you're buying are fresh or thawed. Spoiler alert: You will usually see "fresh" looking shrimp on ice in a store's display case but that's not always the case. Stores will buy frozen shrimp and thaw them out to display. Fresh will always taste better because they retain more moisture aka flavor and will be more plump and juicy.
The Grits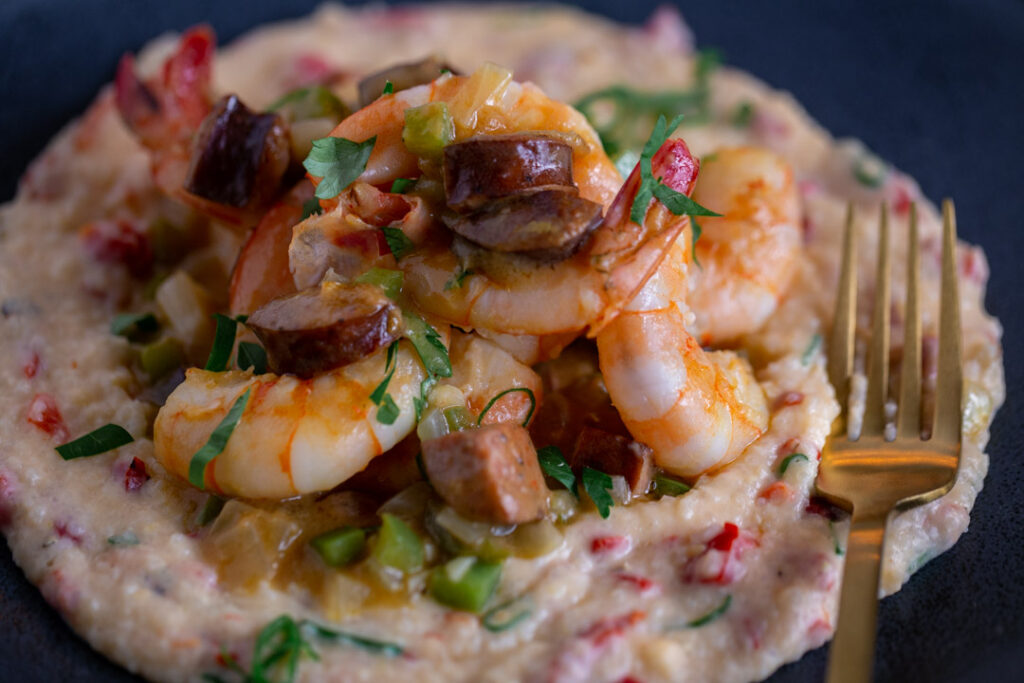 The right grits are key to making the perfect shrimp and grits.
What are grits exactly? They are simply stone-ground cornmeal. What makes them different from regular cornmeal or polenta is the grinding process. Corn is ground in a grist mill, that passes it through two stone wheels, and then the meal is sifted. The fine meal is sold as corn or grit meal, and the coarse meal is sold as grits.
Fun fact: Grits were a staple of the Native American Muskogee tribe that inhabited South Carolina's coastal woodlands for centuries before the British "settlers" entered the region in the mid-1600s. The farmed corn kernels were turned into hominy, and the hominy was ground into a gritty mixture in a stone mill. The British coined the term "grits."
Creamy, velvety, and rich, grits are all about distinctive texture and serving as a blank canvas for flavor. This makes them an incredibly versatile main ingredient for a side dish to complement almost any protein or flavor profile.
Tip: When shopping for grits, strictly look for "stone ground." Stay away from anything that has ingredients other than corn or grits and avoid products that say "quick" or "instant." They have the germ and hull removed to speed up the cooking process, but you lose that gritty quality and distinct flavor.
If you live in the South, you'll never have a problem finding stone-ground grits at your local grocery store. If they're not available in your area, Amazon has a good variety of small producers that make quality grits.
The Cheese
A lot of chefs and foodies I know say that cheese and seafood do not belong together. In a lot of cases, I would agree. Shrimp and grits is not one of those cases.
The original shrimp and grits recipes used shredded cheddar cheese but I prefer to add pimento cheese, a spreadable cheese that is a staple in the South.
Pimento cheese is commonly served as an appetizer with crackers or vegetables like celery and carrot sticks. Most pimento cheese recipes include shredded cheddar, cream cheese, mayo, and canned pimentos. For our recipe, we will omit the mayonnaise (mayo turns into grease when cooked), and use roasted peppers instead of pimentos. We'll also spice it up with some hot sauce!
Let's Eat–—Lowcountry Style!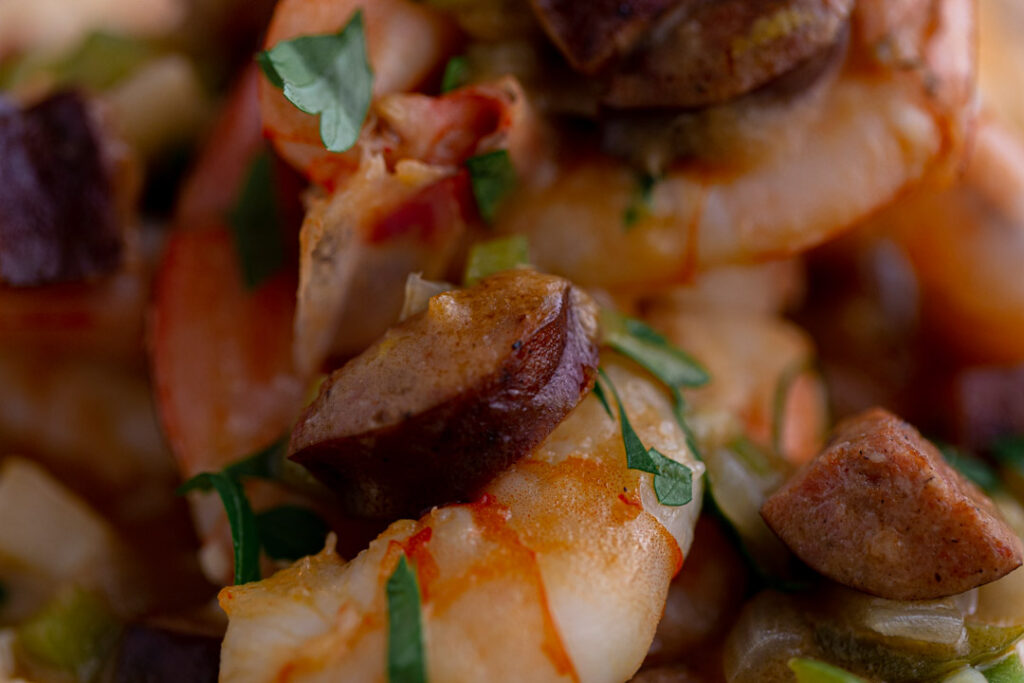 I can't wait for you to put these delicious ingredients together and taste Lowcountry cuisine at its best.
Stay tuned for more Lowcountry recipes coming down the pike as the Southern style is one of my favorite ways to cook simple, fresh, authentic American regional cuisine.
Print
Shrimp and Grits with Pimento Cheese
---
Description
Shrimp and Pimento Cheese Grits will transport you right to the beautiful low country of Coastal South Carolina.
---
For the grits: Please note – I prefer stoneground grits to quick grits, but if you need to save time, quick grits are an option. Make sure to follow the box's recipe as it will differ in liquid to grits ratio and cooking time.
5 1/2 cups

of water

3 cups

 whole milk

1 1/2 cups

of yellow or white stone-ground grits

5 ounces

of cheddar cheese, grated

1/2 cup

of Reggiano parmesan

4 ounces

of full-fat cream cheese

1/2 cup

 roasted red peppers, diced – please note – jarred or canned are fine, but if you want to roast and peel your own, it's 3 whole red peppers.

1/8 teaspoon

of cayenne pepper

1/2 teaspoon

of red chile flakes
For the shrimp marinade:
2

pounds of medium wild-caught-US-shrimp, peeled, deveined, tail on

1

 lemon, zest (optional), and the juice strained of seeds and pulp

1 tablespoon

 olive oil

1/2 teaspoon

of kosher salt

1/8 teaspoon

of fresh ground black pepper

2

 garlic cloves, peeled and smashed
For the sauce:
1

pound of andouille sausage, halved length-ways and cut into

1/4

inch slices

2

 green peppers, seeded and chopped

1

medium onion, peeled and chopped

1

 jalapeno, seeded and minced (optional)

1 teaspoon

 garlic, minced or grated

3 tablespoons

of butter

3 tablespoons

of flour

1 cup

of vegetable or chicken broth.

1 tablespoon

of your favorite hot sauce

1 tablespoon

of Worcestershire sauce
kosher salt to taste
fresh ground black pepper to taste

1/4 cup

Italian flat-leaf parsley, chopped
---
Instructions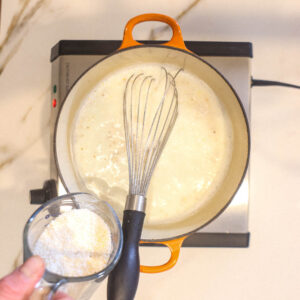 In a heavy-bottomed saucepot, bring the water and milk to a boil. Using a whisk, add grits slowly while whisking vigorously. Lower the heat to a gentle simmer and continue to stir intermittently with a wooden spoon for at least one hour.  The grits will get creamy as they cook. Check the texture, as you may need more or less time. Note: I know an hour is a long time, but you will be preparing the rest of the dish during this time and you can set the table, have a glass of wine, and enjoy some conversation with your loved ones!
When the grits have reached the desired consistency fold in the cream cheese, cheddar cheese, parmesan cheese, cayenne, chile flakes, and roasted peppers. Check seasoning. Remove from the heat and cover.
 In a medium bowl, whisk the olive oil, lemon juice, zest, salt, and pepper. Add the garlic cloves and shrimp. cover and refrigerate.                                                                                                                                                   
In a large saute pan, heat olive oil to shimmer, and add the Andouille. Reduce the heat to medium and occasionally stir until browned. Remove the Andouille from the pan, leaving the oil.         
Add the onions, peppers, and garlic to the pan and saute until softened, 5-6 minutes. Add the sausage and shrimp and set aside off the heat.                                                                                   
In a small saucepot or saute pan, melt the butter, and whisk in the flour. This will create a roux. Cook the roux, slowly until it reaches a dark color, about 10 minutes.                                         
slowly add the broth stirring with a wooden spoon.  Add the Worcestershire sauce and the hot sauce. 
Cook the roux for 5 minutes at a simmer.                                                                                                                                                     
Add the roux to the pan with the shrimp, veggies, and andouille. Cook over medium heat, just until the shrimp turns pink. About 5-6 minutes. Note – watch this step closely, as it is very important that the shrimp do not get overcooked. 
Make sure the grits are hot. Ladle the grits onto the plate. Use the bottom of the ladle to make a space in the middle of the grits to pool the sauce and evenly distribute the shrimp to each plate. Spoon the remaining ingredients on top of the shrimp.                                                                                       
Sprinkle chopped parsley over the top and enjoy!