Late January can bring on the winter blues. As I write this, I find myself longing for a sultry summer breeze, my kids at day camp, a cold hefeweizen (with lemon), and time to chill with my wife. Fortunately, our taste buds can provide us with a virtual trip to a warmer spot on even the coldest winter day with a soothing recipe usually pulled out during these frozen weeks of mid-winter: Tomato Soup with Grilled Cheese.
Adding to the warm weather feel, what screams summer more than tomatoes and basil? How about fresh mozzarella? Are you there yet? Is it possible to warm up with ingredients usually reserved for hot August nights?
I'm here to tell you that it is! I love to make tomato soup with a ton of basil accompanied by a grilled cheese with fresh mozzarella and pesto.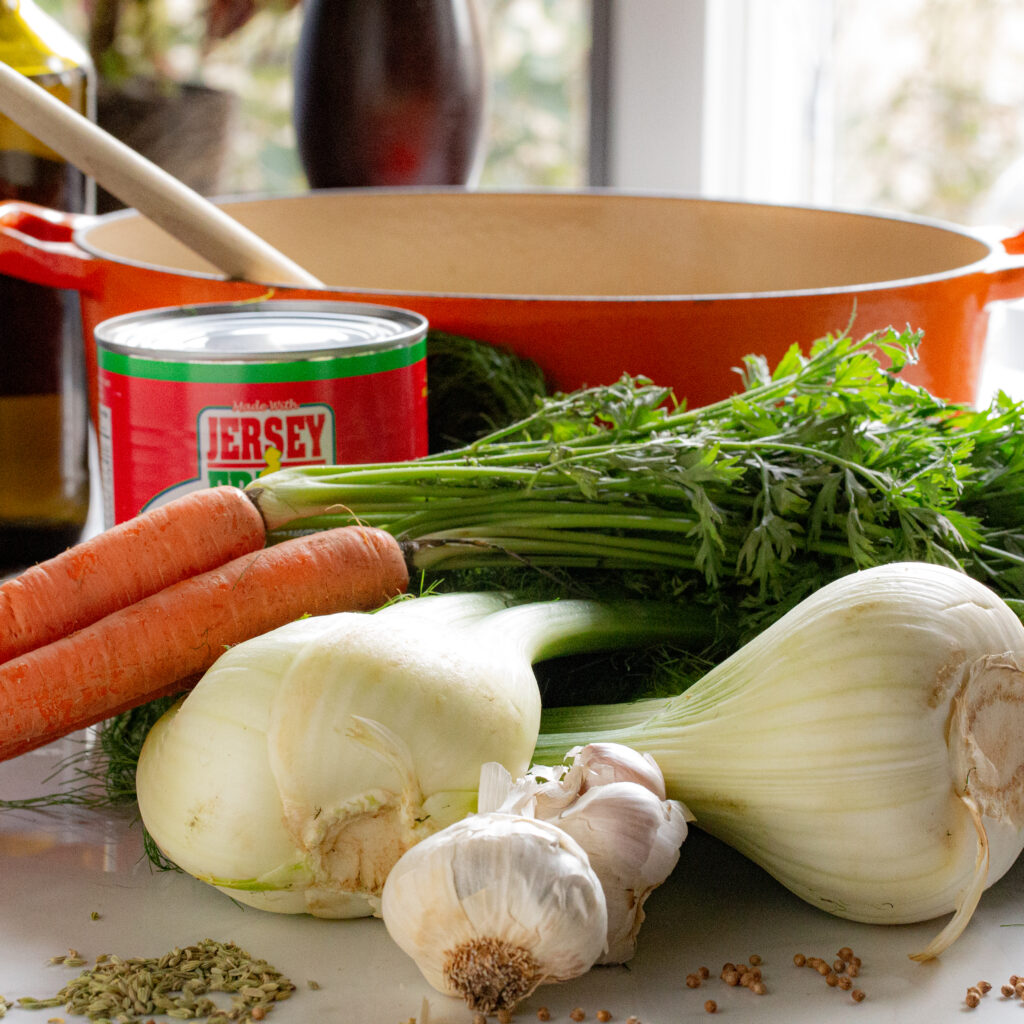 The tomato soup
Let's start by making sure we have the correct ingredients in our pantry for our soup. First, we need excellent quality whole-peeled canned tomatoes. Before you frown about the word canned, please remember that quality canned tomatoes are harvested and canned at the height of their growing season. I recommend Jersey Fresh brand or anything from the San Marzano region of Italy.
For this soup, I like running the tomatoes through a food mill (this one is the best) prior to adding to the soup. This will remove some of the seeds and unwanted fibers while giving the tomatoes a smooth consistency.
We will also need whole coriander and fennel seeds. These will be toasted and ground into a powder with a mortar and pestle.
As far as fresh ingredients that are a little different from the norm, we will need a bulb of fennel. I love the sweet hint of anise flavor that fennel gives my tomato soup while working with the carrots to add body.
As I mentioned, basil is an important addition to this soup. Here's my method for infusing the soup with the basil without the hassle of fishing out leaves and stems: Tie a large bunch of basil together with one end of a length of kitchen string. Then tie the other end of the string to the pot handle. This allows the basil to steep in the simmering soup and be removed easily later. This technique works well in sauce and soups when using any kind of stem herbs or leaves. I will include this description in the recipe method below.
The grilled cheese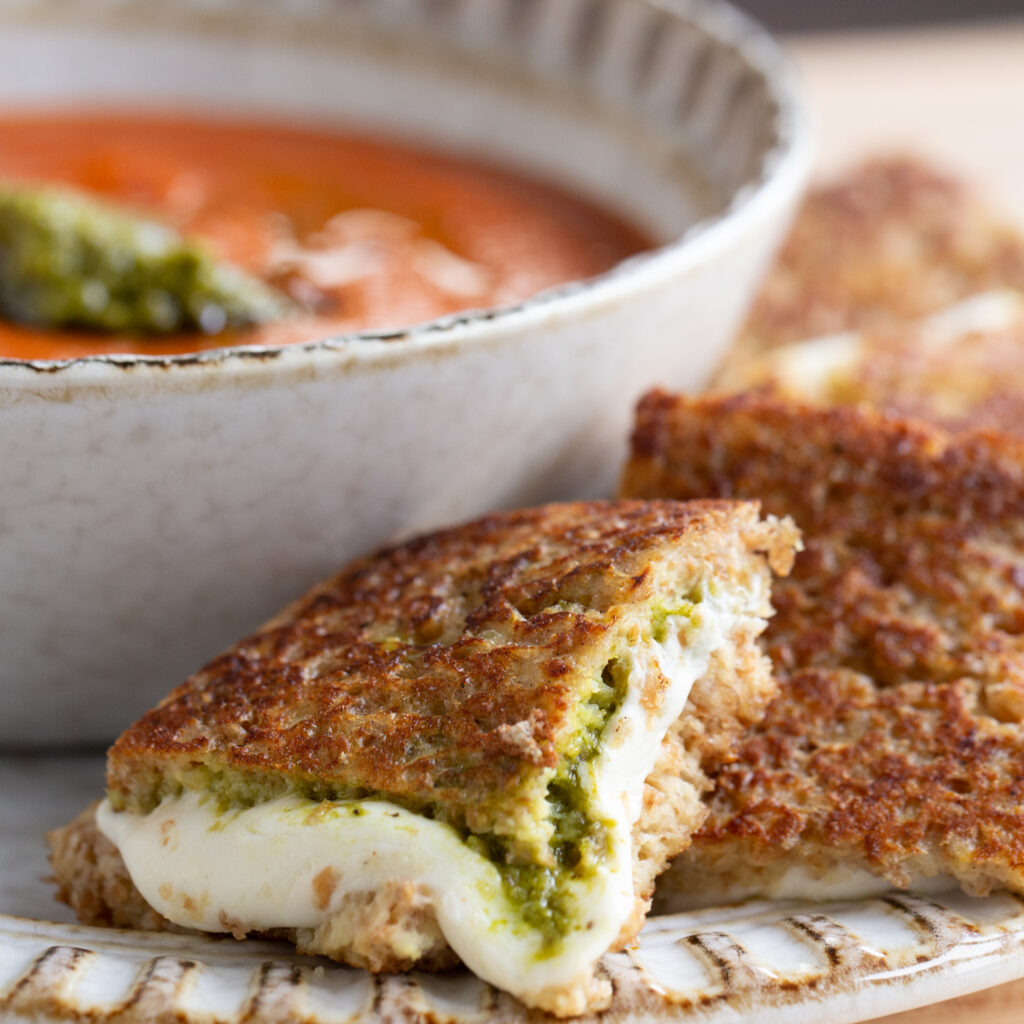 This is a fantastic grilled cheese sandwich that is a little different from the norm. I treat this sandwich like a pseudo-Monte Cristo. A Monte Cristo is a ham sandwich that is dipped in an egg and cream mixture before it's pan-fried in butter. The reason I do that here is that we have two ingredients that this method really works well with, buffalo mozzarella and pesto. Dipping the sandwich in the custard creates a seal in the bread keeping the contents from seeping through.
I used Sesame Ezekiel Spouted Wheat Bread . I love Ezekiel this bread because it toasts extremely well (I have never eaten it non toasted!) and is a really healthy choice.
This simple tomato soup and grilled cheese recipe should do the trick to warm you up while transporting you to a tranquil summer night. Oh, the cold hefeweizen (with lemon) works well with this dish in the winter too!
Enjoy!
Print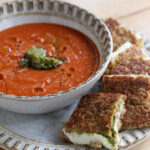 Easy Tomato Soup with Pesto Grilled Cheese
---
Author:

Prep Time:

15 minutes

Cook Time:

45

Total Time:

1 hour

Yield:

7

–

10

servings

1

x
Description
this creamy smooth tomato soup with pesto grilled cheese will bring summer into the coldest winter day!
---
for the soup:
2-each 28-ounce canned of whole peeled tomatoes, run through the course plate in a food mill.
1 medium onion, diced
1 fennel bulb, washed, trimmed of stems and chopped
3 medium carrots, washed, peeled, and chopped
1 tablespoon of coriander seed, toasted and ground with a mortar and pestle
1 teaspoon of fennel seeds, toasted and ground with a mortar and pestle
1 teaspoon of sugar
2 tablespoons of kosher salt
1/2 teaspoon of fresh ground black pepper
1 bunch of basil, tied tightly with kitchen twine (leave a 4-inch string at the top)
for the grilled cheese (per sandwich):
2 slices of your favorite bread, I used Ezekial Sesame. If you slice your own use 1/3 of inch slices.
2 eggs, beaten
1/2 cup cream
1 teaspoon of kosher salt
3–4 grinds of fresh black pepper
1 large ball (8 ounce) of buffalo mozzarella, cut into 1/4 inch slices
2 tablespoons of basil pesto
1 tablespoon of unsalted butter
---
Instructions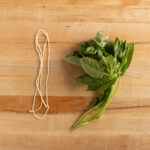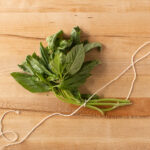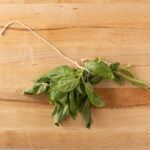 1. Tie the basil together with butcher twine leaving a 4-inch piece of string that will be used to tie the basil to the pot handle.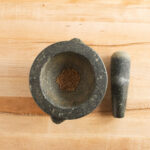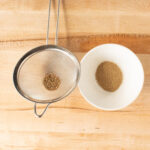 2. Toast the coriander and fennel seed in a dry small saute pan over medium heat until you smell the fragrance of the spices. Grind with a mortar and pestle, then sift the husks, leaving the powder.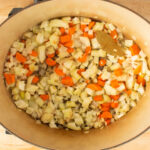 3. In a dutch oven over medium heat, add the fennel, carrot, onion, and garlic. Sprinkle with salt and sweat the vegetable for 3-5 minutes until the carrots are tender.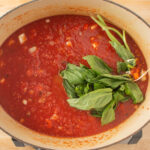 4. Add the pureed tomatoes, ground spices, and tie the basil to the pot handle and submerge it into the young soup. Bring to a simmer over medium heat and lower to a gentle simmer. Cover, leaving just a small opening to allow steam to escape. Simmer for 45 minutes or until the vegetables are cooked through with no bite. It's key that you don't overcook this soup as keeping the flavor of the fennel and carrots will give you a more interesting soup.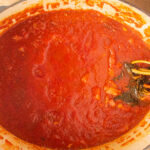 5. When the soup is cooked remove basil (see how easy that is!).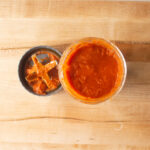 6. Puree the soup in a high-speed blender. (my Vita-Mix is in the shop so I used my Nutri-Bullet!). If you did not run the whole peeled tomatoes through a food mill to remove the seeds and unwanted fibers, you can do so now by straining the soup through a china-cap or large mesh strainer. This will ensure that the soup will be silky and smooth.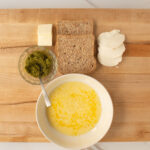 7. Heat a cast iron or carbon steel pan on medium heat. Shingle the cheese on one side of the bread. Spread a generous portion of pesto on the other side. Press the sandwich rather firmly together. Quickly dip into the egg/milk mixture. Flip and repeat. You don't want to soak the bread, just coat it.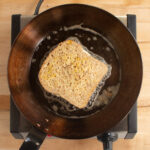 8. Add the butter to the pan. Keep the medium heat. When the butter dissolves and begins to brown, add the sandwich. Cook for 2 minutes and check to see if the sandwich is browned. If so, flip and cook for 2-3 more minutes. If the cheese is not fully melted lower the heat and cook longer swirling the sandwich so it doesn't burn. The cheese should be fully melted. Remove, cut off the crusts (or not), and enjoy with your soup!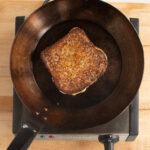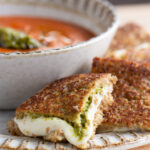 Notes
If you can't find Buffalo Mozzarella, shredded whole milk mozzarella will work just fine.
If you're not into fennel, substitute celery and omit the fennel seed.
Category:

Soup

Method:

Stovetop

Cuisine:

Mediterranean
Keywords: Tomato and Grilled Cheese, Buffalo Mozzarella, Buffala, Winter soup