Sopa de ajo (garlic soup) is the quintessential peasant food.
Peasant food has always suited me. It leaves me feeling nourished but never too full. When I'm not feeling well, it's always what I turn to give me energy and help me fight whatever it is that ails me.
Whether it's cassoulet or pot-au-feu from France, minestrone from Italy, shepherd's pie from Ireland, or sopa de ajo from Spain, I am always content after my last bite.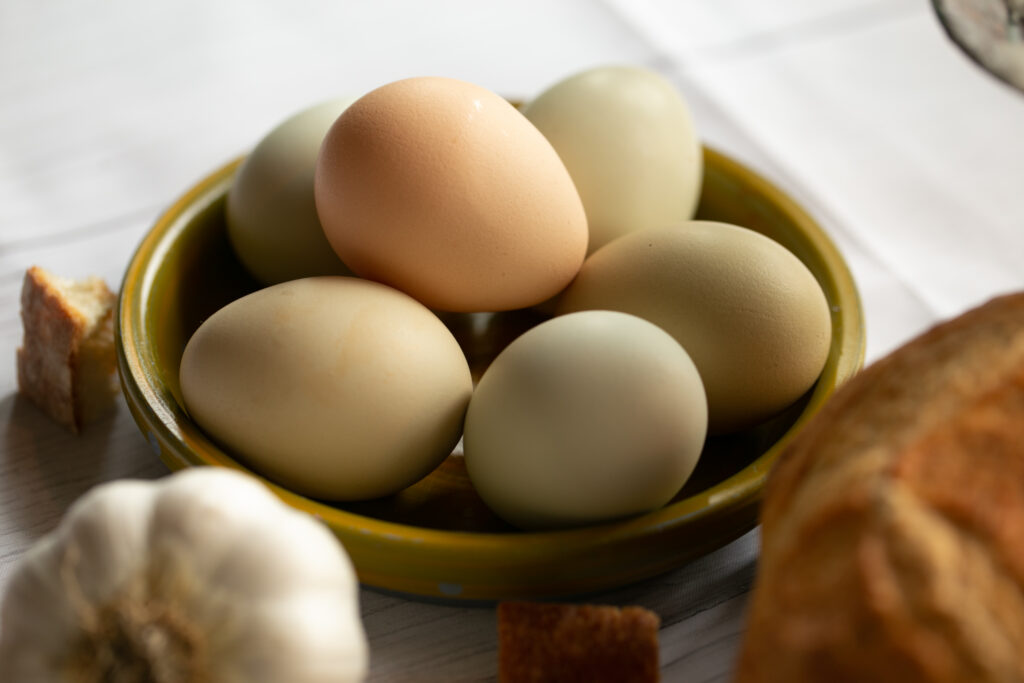 Sopa de ajo, or sopa Castellana, said to have originated in the Castile region of central-northern Spain, was first made by shepherds who, only carrying stale bread, garlic, and water, would simmer these ingredients in a small cauldron over a fire on cold nights in the wild.
Nowadays, it's a wildly popular soup all over Spain and some additional ingredients have been added to give it a bolder flavor and more sustenance. The addition of spices, ham, and eggs has turned this simple yet delicious soup into a masterpiece. It's yet another dish that soothes the soul!
Sopa de ajo is commonly served in Spain around the time of Lent (no meat!). It's also a common offering at weddings
The ingredients
Bread. The bread is key. It must be crusty; stale bread is actually preferable. We will make ours stale. I'll get to that in a minute.
Garlic. Always look for garlic with firm, large cloves and no visible blemishes. Soft, discolored garlic will show its age by sprouting (See the bottom of my garlic bowl as I write this.).
Broth. While this soup is classically made with water, we will use chicken broth to fortify the flavor.
Smoked paprika. Paprika gives this soup a sensual depth.
Chorizo. While serrano ham is widely used in Spain, I have decided to spice things up a little bit by using chorizo instead. Spanish chorizo is made with garlic and smoked paprika, so it will complement our soup nicely.
Eggs. A lot of authentic sopa de ajo recipes whisk eggs into the simmering broth (think eggdrop soup), but we will drop whole eggs right in the soup just at its finish.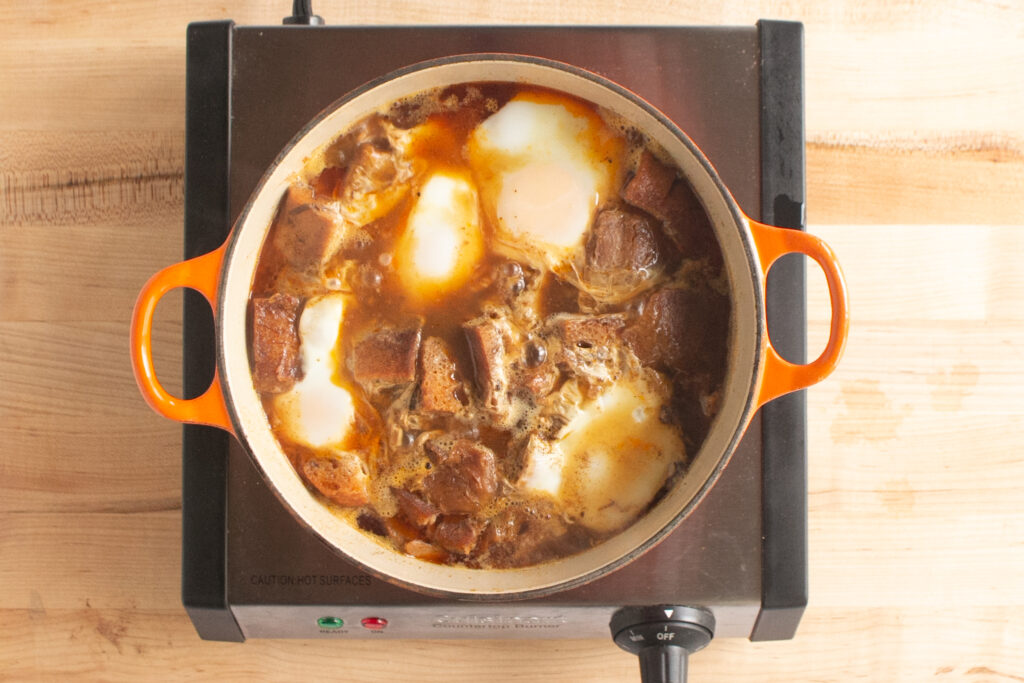 Making the soup
Here are some important parts of the method to keep in mind:
Using very dry bread is key. The bread is added to the soup at its early stages and very dry bread will stay intact through the cooking process. I cube the bread the night before I make the soup and let it dry out on a cookie tray in my oven. I then make flavorful ultra-crunchy croutons.
This is a very quick soup to make from start to finish. Just 20 minutes give or take. It must be eaten immediately. The bread will absorb all the liquid if it sits and you will have a yummy bread pudding rather than soup!
You will crack whole eggs right on top of the soup at its finish and they will cook in the broth. You will know when they are cooked when the whites turn opaque. Then it's go time!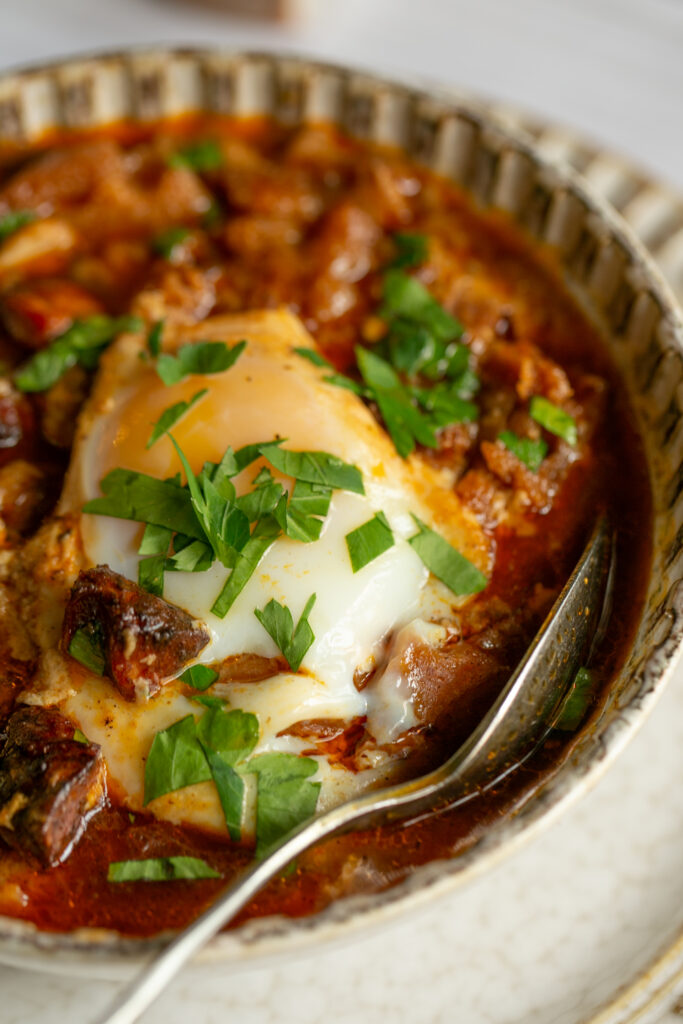 Let's eat
Ladle the soup into a bowl and top with an egg. Sprinkle fresh chopped parsley over the top. That's it!
Enjoy!
Print
Sopa de Ajo: Spanish Garlic Soup
---
Description
this simple classic peasant dish has rich flavor, chorizo and you crack an egg on top! enough said! get cooking!
---
1/4 cup

of extra virgin olive oil

2 tablespoons

of sweet butter

8

cloves of garlic, peeled and thinly sliced

1/2 teaspoon

of hot smoked paprika

1/2 teaspoon

 cumin

1 teaspoon

of red pepper flake

4 cups

of stale bread cut into

one

-inch cubes

6 ounces

of spicy chorizo, sliced into half-inch rounds

4 cups

of chicken broth
sea salt
fresh ground black pepper
---
Instructions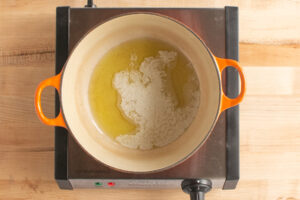 1. Melt butter and olive oil together.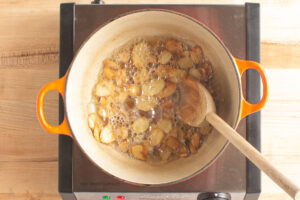 2. Add sliced garlic and toast over medium heat.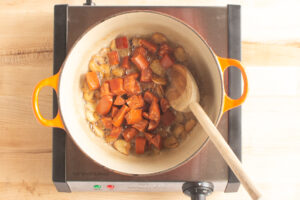 3. Add the chorizo and cook for 3 minutes stirring once a minute. Get a little color on the chorizo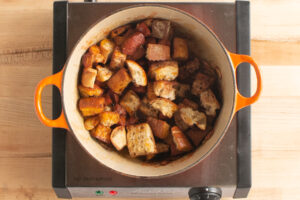 4. Add the bread, paprika, cumin, and red pepper flake. Stir well coating the bread with the oil. Cook for five minutes gently toasting the bread.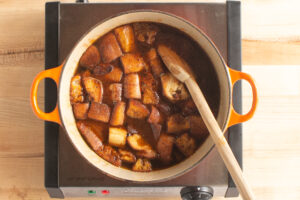 5. Add the stock, increase the heat to high. Bring to a simmer, stirring occasionally. Reduce heat to maintain the simmer.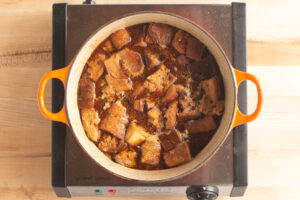 6. Simmer for 10-12 minutes until the bread has doubled in size ballooning from soaking up the liquid.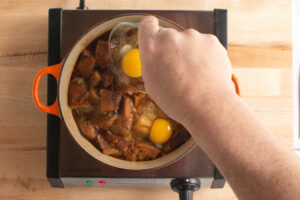 7. Crack the eggs individually into a small cup. Make sure the bread has a pretty solid foundation on the top of the soup and slowly pour the egg so it sits on the bread. Repeat this process with 4 eggs. Cover and simmer for 7-10 minutes or until the egg whites are opaque.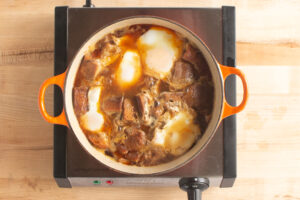 Serve immediately! Ladle out the soup first without disturbing the egg and top with the egg.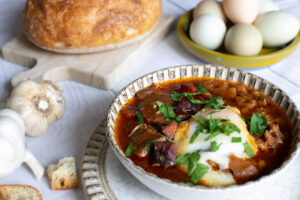 Enjoy!
Notes
The chorizo can be substituted with serrano ham or prosciutto or omitted altogether.
My favorite widely available chorizo is from D'artagnan. You can find it here.
The best way to ensure evenly cut stale bread is to cut the bread the night before and lay it flat on a cookie sheet. Place the cookie sheet in your oven (no heat) and remove it the next day. The cubed bread will be stale as can be!
It is very important that this soup be served immediatly.